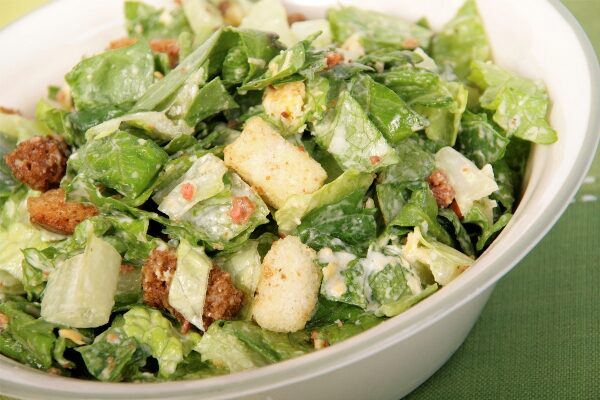 Ingredients
4 eggs

4 rashers streaky bacon

4 slices french bread

1 cos lettuce, washed and dried

3 anchovies, chopped

1/4 cup freshly grated parmesan cheese

Dressing

1/2 teaspoons salt freshly ground black pepper

2 cloves garlic, crushed

1/4 teaspoon mustard powder

1 teaspoon Dijon mustard

1 teaspoon lemon juice

2 tablespoons red wine vinegar

1/2 cup extra virgin olive oil
Method
Boil eggs in a saucepan of boiling water for 7 minutes until set but not hard boiled
Roughly chop bacon and pan fry until crispy.
Meanwhile, brush bread slices with a little oil and bake or grill until toasted and golden.
Mix all dressing ingredients in a screw top jar. Shake well and set aside.
Peel eggs and cut into quarters.
Arrange lettuce leaves in salad bowls and scatter on egg, anchovies, bacon, croutons and
cheese.
Drizzle with dressing and eat at once.