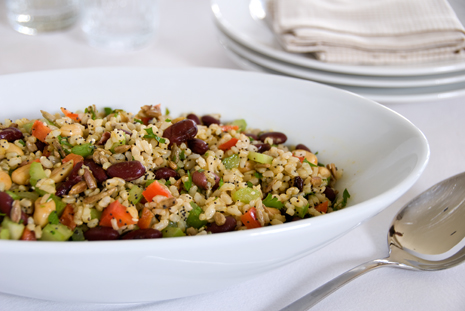 Maddie requested this Indonesian Rice Salad from Capers, Epicurean Cafe 1181 Eruera St in Rotorua. Thanks to Amanda for sharing the recipe.
Ingredients
1 cup

brown rice, cooked

1/2 cup

peanuts

1/2 cup

currants

1 tablespoon

poppy seeds

1 cup

cooked kidney beans (can use canned, just drain and rinse)

2 tablespoons

sultanas

1/4 cup

sunflower seeds, lightly toasted

1 tablespoon

sesame seeds

1

stalk celery finely sliced

1

capsicum , finely chopped

1/4 cup

chopped parsley

1/2 cup

oil

1/2 cup

cider vinegar

juice of 1/2 lemon
Method
Mix all ingredients together in a large bowl - except the oil, cider vinegar, lemon juice and curry powder.
Heat a little oil in a frying pan and gently cook the curry powder until fragrant, add remaining oil and cider vinegar and whisk together.
Remove from heat and add lemon juice.  Allow dressing to cool and then drizzle ove salad.