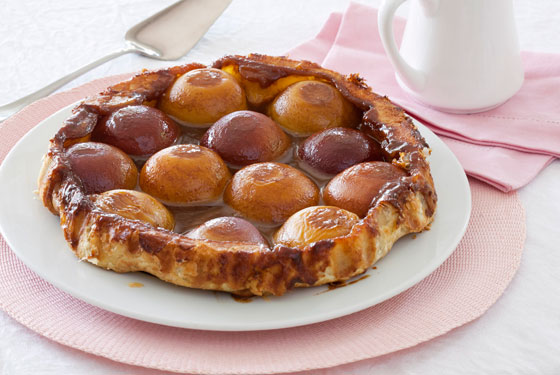 Ingredients
150g caster sugar
2 tbsp water
1/2 cup cream
25g butter
6 large freestone peaches
2 sheets  (350g) butter puff pastry
Method
Preheat oven to 200 C.
Place sugar and water in a saucepan over a gentle heat, stir well until sugar dissolves.  Bring to the boil and then continue to boil without stirring until sugar starts to change colour.  Tilt the pan gently so the colour spreads through the sugar.  As the sugar turns from golden to dark amber quickly remove from heat and carefully pour in the cream, take care as it can splatter.   Add butter and mix until smooth.
Rub excess fur from peaches and then cut in half and remove stones.
Pour at least half the caramel over the base of a 26cm flan pan (don't use a loose bottom pan) making sure the base is covered.  Place peaches skin side down in the pan.
Cover peaches with one sheet of pastry and then cut strips from the second sheet and tuck them around the edges of the pastry to form the sides of tart.  Press the pastry edges together so you get one large piece.  This is easier to achieve with one piece of rolled pastry but I am assuming most people purchase ready rolled sheets.
Place tart in the oven and cook for 20 minutes until pastry is puffed and golden.  Remove from the oven and allow to sit for a few minutes.  Loosen edges with a knife.  Invert tart onto a serving plate so that the peaches are now on the top and the pastry is the base and serve with extra caramel sauce and icecream.