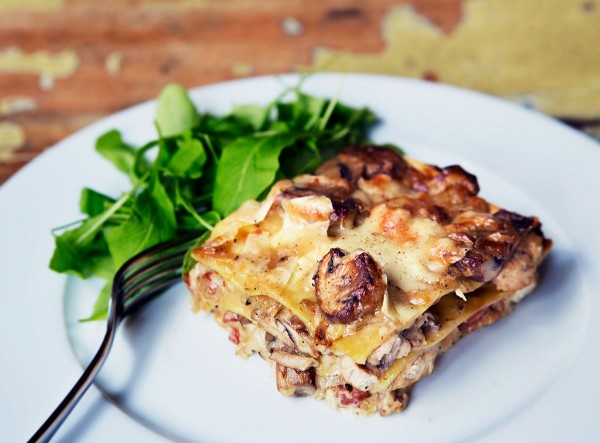 Ingredients
1 tablespoon

butter

1 tablespoon

olive oil

1

onion, finely chopped

3 cloves

garlic, finely chopped

250g punnet

button mushrooms, halved

1 teasppoon

fresh thyme leaves

4

rashers streaky bacon, chopped

3

chicken breasts (boneless and skinless), cooked

Sauce

50g

butter

3 tablespoons

plain flour

1 3/4 cups

milk, heated

1/2 cup

grated Parmesan cheese

1 tablespoon breadcrumbs

3 sheets

fresh lasagne

1 cup grated

mozzarella cheese
Method
1. Preheat the oven to 180̊ C.  Melt the 1 tablespoon of butter with the oil in a frying pan and cook the onion over a gentle heat for about 10 minutes. Increase the heat to moderate and add the garlic, mushrooms, bacon and thyme, cook, stirring regularly until the mushrooms are starting to colour and the bacon is cooked, about 10 minutes. Season with salt and pepper.
2. Chop the chicken into chunks approximately 3cm.  Mix the chicken with the mushroom mixture.
3 To make the béchamel, melt the 50g of butter in a small saucepan and stir in the flour. Mix well and cook for a few minutes then stir in the milk, whisking until the sauce boils and thickens. Stir in the Parmesan and season.
4. Sprinkle then breadcrumbs over the base of a greased rectangular baking dish approximately 30 x 25cm. Cover with a lasagne sheet and then a third of the mushroom mixture and a sprinkle of mozzarella followed by a layer of sauce. Add another lasagne layer and another third of the mushroom mixture and sauce. Cover with a lasagne sheet and spread over remaining sauce and then finish with a sprinkle of Mozzarella cheese.
Bake for 45 minutes or until browned and bubbling.
* A drizzle of truffle oil just before serving would be fabulous with this lasagne.