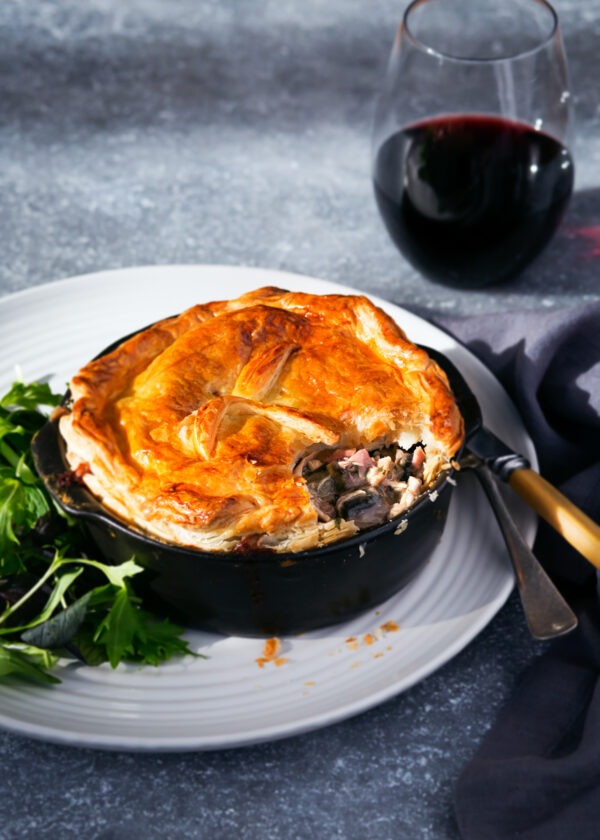 Ingredients
1

size 14 chicken

carrot, celery, onion, bay leaf, parsley

2 tablespoons

olive oil

1

onion, finely chopped

3

cloves garlic, finely chopped

4

slices streaky bacon

400g

button mushrooms, sliced

1 teaspoon

finely chopped rosemary

2 teaspoons

thyme leaves

2 tablespoons

flour

400g

can chopped tomatoes

1/2 cup

red wine

1 cup

chicken stock

4 sheets (600g approx)

puff pastry
Method
Place the chicken into a large saucepan, with vegetable trimmings such as carrot, onion, celery, parsley and bay leaf.  Cover with cold water and then bring to the boil and simmer for about 45 minutes until the chicken is cooked.
When cool enough to handle remove the flesh from the chicken and tear it into bite sized pieces, set aside.
Return the skin and carcass to the pan and simmer until reduced by half.  Strain the stock and skim fat from the surface as it rises.
Heat oil in a large frying pan over a gentle heat and cook onion and garlic until tender.  Remove and set aside, increase heat and cook bacon and mushrooms until coloured.
Add herbs to the pan, the onion and garlic as well as flour.  Stir and gently cook for 2-3 minutes before adding wine, tomatoes and stock.  Bring to the boil, stirring, until the sauce bubbles and thickens. Add the chicken to the sauce and season to taste with salt and freshly ground black pepper (if the sauce is to thick then add a little extra chicken stock).
Allow filling to cool.
Preheat the oven to 180°C fan bake.
Line 4 x 300ml pie dishes with pastry.  Spoon in filling and then cover with pastry, pressing to seal.
Brush each pie with egg wash and then pierce a small hole in each pie with a small sharp knife.
Bake for 20-25 minutes until puffed and golden.