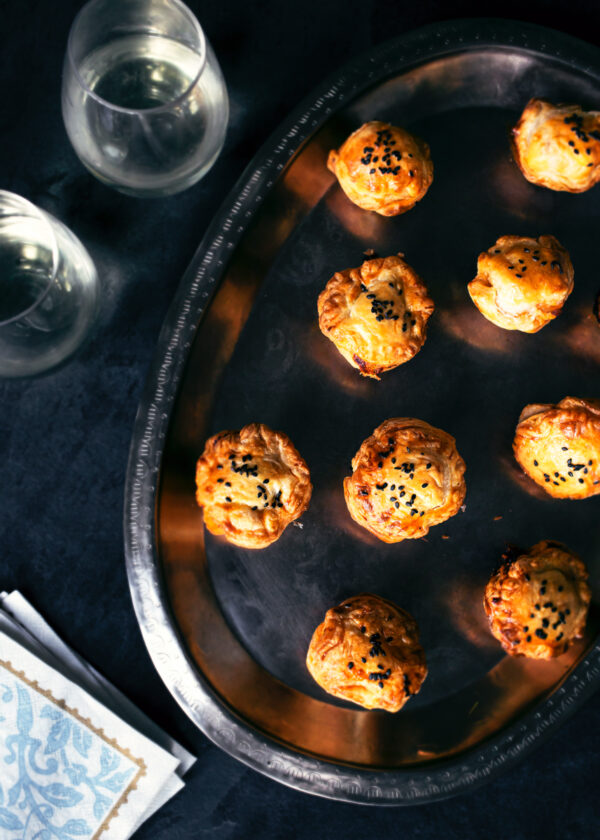 Ingredients
1

size 14 chicken, poached in water until cooked

50g

butter

1

onion, finely chopped

2

cloves garlic, finely chopped

1 teaspoon

grated nutmeg

1 1/2 teaspoons

ground turmeric

1 1/2 teaspoons

ground cumin

1 teaspoon

garam masala

1/2 teaspoon

salt

3 tablespoons

tomato paste

2

teaspoons sugar

3/4 cup

cream

2 teaspoons

cornflour

500g

butter puff pastry sheets

1

egg yolk whisked with a little water

black sesame seeds
Method
Remove the meat from the chicken, discard skin and chop into 2cm chunks.
Melt the butter in a large frying pan and gently cook the onion and garlic until tender. Add the spices (except garam masala) to the pan and cook for several minutes, stirring to ensure they don't burn.
Add the garam masala, salt, tomato paste and sugar. Stir in the cream and the cornflour and simmer until the sauce thickens.
Mix the chicken into the sauce and then set aside to cool.
Preheat the oven to 180°C.
Line 24 mini muffin tins with pastry.  Spoon filling in to each, taking care not to over fill them.
Cover with a pastry lid and press to seal.
Brush with egg wash and sprinkle with sesame seeds.
Bake for 15-20 minutes until pastry is puffed and golden.