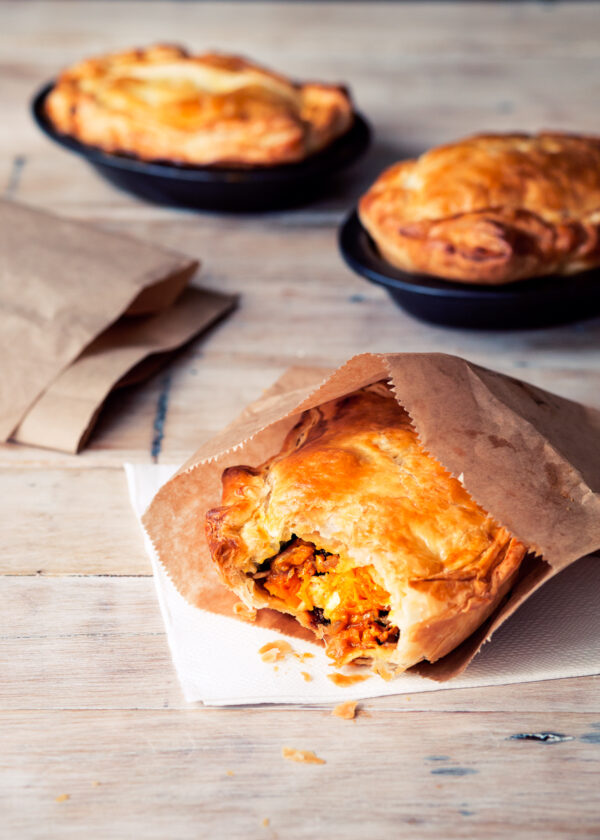 Ingredients
1

size 14 chicken

carrot, onion, parsley, celery trimmings

2 tablespoons

olive oil

1

onion, finely chopped

2 cloves

garlic, finely chopped

1 1/2 teaspoons

ground coriander

1 1/2 teaspoons

ground cumin

1 teaspoon

smoked paprika

1/2 teaspoon

ground cinnamon

1 teaspoon

ground ginger

450g

pumpkin, chopped into 2cm chunks

2 1/2 cups (625ml)

chicken stock, heated

4 sheets (750g)

Butter puff pastry

1

egg, lightly whisked with a little water
Method
Place chicken in a large saucepan along with vegetable trimmings.  Cover with cold water, bring to the boil and then simmer for 45 minutes until chicken is cooked through.
Once chicken is cool enough to handle remove flesh (discarding skin) and tear into bite sized pieces.  Return the skin and carcass to the pan and simmer until reduced by half.  Strain and then skim off fat as it rises (chicken stock can be frozen for future use).
Heat oil in a large frying pan and gently cook onion and garlic until onion is tender.
Add spices to the pan along with the pumpkin and toss to coat.
Pour in the chicken stock, season with salt and freshly ground pepper and simmer until pumpkin is tender.
Add chicken to the pan.
Mix flour with a little cold water, stir into the chicken mixture and allow to boil and thicken.
Set aside to cool.
Preheat the oven to 180°C fan bake.
Line 6 x 300ml pie dishes with pastry, spoon in filling and then cover with pastry lid and press edges to seal.
Brush with egg wash.
Prick the pastry with a fork to allow steam to release.
Bake for 25 minutes until puffed and golden.