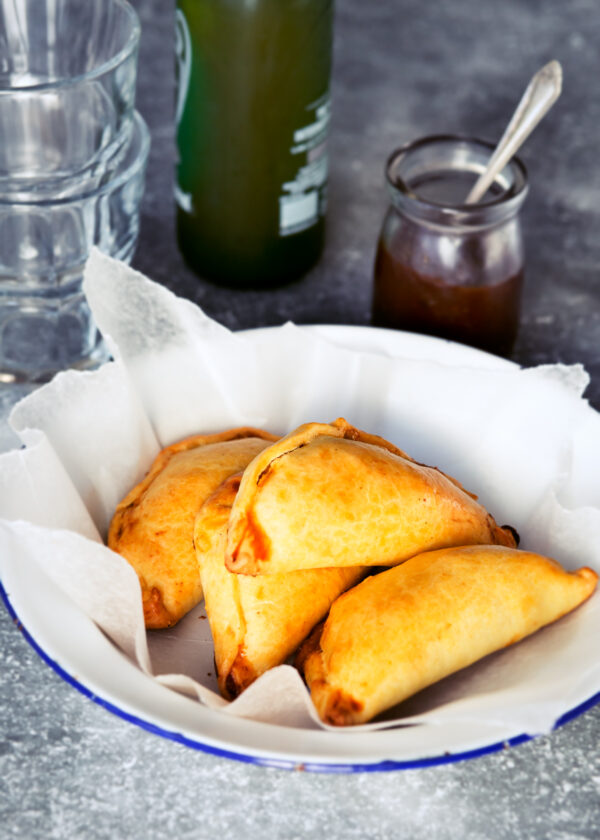 Preheat the oven to 200°C.
Remove the skin from the chicken and chop the meat into small chunks around 2cm diameter.
Heat the olive oil in a frying pan and gently cook the onion and garlic until tender.
Add the chilli, paprika, cumin, chorizo and olives,cook for a further minute or two before adding the white wine and lime juice.  Season with salt and freshly ground black pepper.
Allow the wine to bubble and reduce.  Mix in the chopped chicken.
Taste and adjust seasonings if needed and set aside.
Cut 10 pastry discs of approximately 10cm in diameter.  If using pastry sheets you will be able to patch pastry pieces to suit.
Spoon filling onto one half of each pastry circle. Brush the edges with egg wash, fold over and roll the edges over to seal.
Poke holes in the top with a fork to allow steam to escape.
Bake for 10 minutes until the pastry is golden and crisp.
Ingredients
1

size 14 chicken, cooked

2

tablespoons olive oil

1

red onion, finely chopped

2

cloves garlic, finely chopped

pinch of

dried chilli flakes

1 teaspoon

paprika

1/2 teaspoon

ground cumin

1/2 cup

chopped chorizo

1/3 cup

green olives, pitted and roughly chopped

1/2 cup

white wine

1 tablespoon

lime juice

1/4 cup

chopped coriander leaves

500g

savoury short pastry approximately 3mm thick.

1

egg, lightly whisked