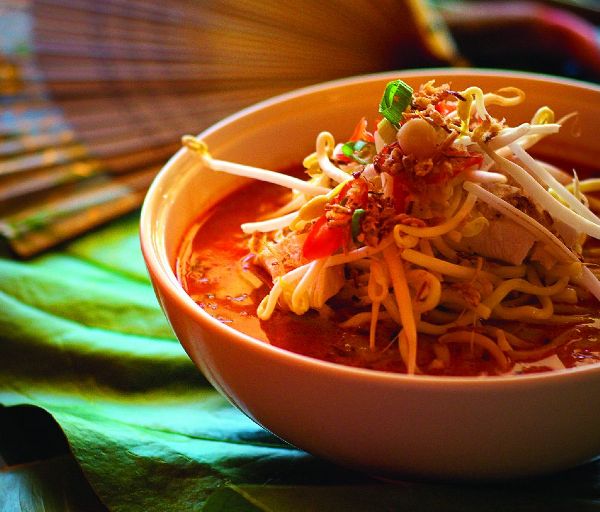 By Kalai Subramaniam, Sri Puteri Malaysian restaurant (Panmure, Auckland)
This Malaysian style Laksa may have a long ingredient list but the method is easy and it can be made relatively quickly.
By
Ingredients
400g

chicken breast or thigh fillets, cut into 1.5cm wide strips

4

red onions

2 tablespoons

grated fresh ginger

3

cloves garlic

2

stalks, lemongrass, thinly sliced

1 tablespoon

shrimp paste (beclan)

1

cinnamon stick

1 tablespoon

finely chopped palm sugar or brown sugar

1 tablespoon

fish sauce

1 tablespoon

turmeric powder

1 tablespoon

curry powder

1 cup

water

2

400g cans coconut cream

100g

tofu, thinly sliced

400g

fresh egg noodles

1 cup

mung bean sprouts

3

spring onions, finely sliced

2 tablespoons

crisp fried shallots
Method
Gently cook the chicken in a saucepan of simmering water until completely cooked.  Set aside.
Blend together in a food processor the onion, ginger, garlic, lemon grass and shrimp paste.
Heat 2 tablespoons of oil in a deep pan and add the blended paste. Immediately add the cinnamon stick, turmeric powder, coriander powder, curry powder and cook until the oil rises to the surface.
Lower the heat and add the coconut cream, sugar, water and fish sauce. This is your curry laksa sauce.
In a separate bowl soak the noodles in hot water for 1 minute and then drain.
In a large bowl add sufficient noodle and top with the curry laksa, strips of chicken, raw beansprouts, tofu.
Garnish with spring onion and fried shallots and serve while still hot.