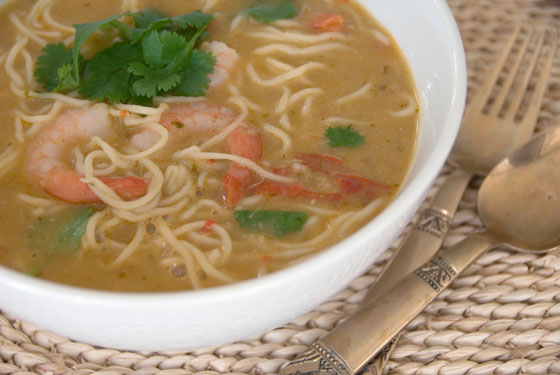 Serves 4
Ingredients
2 tablespoons oil
4 tablespoons laksa paste
1.5 litres chicken stock
2 teaspoons palm or brown sugar
½ teaspoon salt
2 cups coconut milk
300g egg noodles
meat from half a cooked chicken, sliced
8 prawns, peeled
4 tablespoons bamboo shoots, rinsed and cut into matchsticks
1 cucumber, peeled, seeded and cut into matchsticks
1 cup beansprouts
4 spring onions, sliced
crisp fried shallots or onion
fresh coriander
Method
Heat oil in a wok or saucepan and fry laksa paste until fragrant, about 5 minutes.
Add stock, sugar, sugar and salt and bring to the boil. Reduce heat and add coconut milk, stirring constantly. Pour boiling water over noodles, drain and rinse.
Add chicken, prawns and bamboo shoots to laksa and heat through without boiling until prawns have cooked through. Distribute noodles between deep bowls and then prawns and chicken. Ladle over soup and sprinkle with cucumber, beansprouts, spring onion, shallots and sprigs of coriander.
Serve at once.