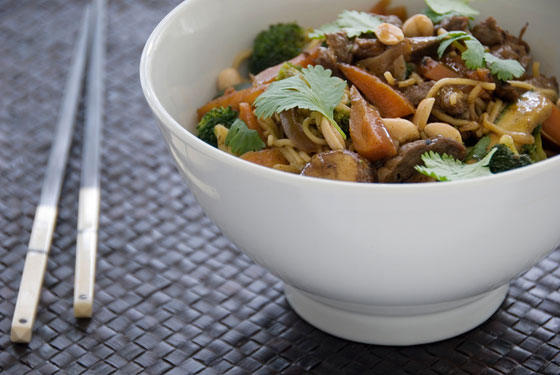 Serves 4
Ingredients
600 g rump steak, sliced into long strips
2 tablespoons grated fresh ginger
3 cloves garlic, crushed
1 tablespoon sesame oil
1 tablespoon vegetable oil
1/4 cup soy sauce
2 carrots, peeled and cut into matchsticks
2 zucchini, sliced
1 red capsicum, seeds removed and cut into long strips
1 tub button or swiss brown mushrooms, rinsed and sliced
6 spring onions, finely sliced
1 tablespoon fish sauce
2 teaspoons chilli sauce
150 g mung bean sprouts
1/2 cup toasted blanced peanuts
3/4 cup roughly chopped coriander leaves
1 cup crispy noodles
Method
Mix steak, ginger, garlic, sesame oil, vegetable oil and soy sauce together in a non metal bowl. Refrigerate for a minimum of 30 minutes and ideally a few hours.
Heat a wok or large frying pan over a high heat, remove beef from marinade and quickly cook in batches for a few minutes until brown all over. Remove meat from the pan and set aside. Add carrots and zucchiniand cook for 3-4 minutes, add a little water as needed. Add capsicum, mushroom and spring onion and pour over marinade. Cook, stirring often until vegetables are just cooked. Return meat to the pan along with fish & chilli sauce, sprouts, peanuts, coriander leaves and crisp noodles.
Toss to combine and serve immediately.