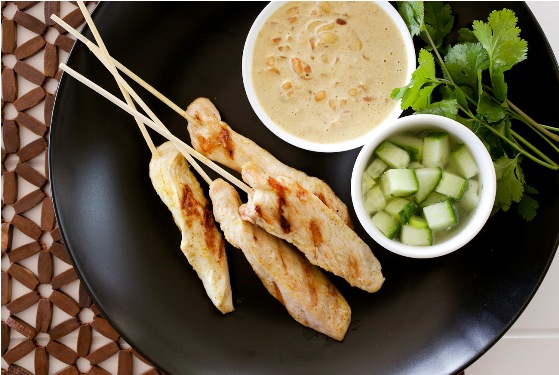 By
Ingredients
4

chicken breasts, skin off and boneless

2 teaspoons

Thai curry powder (tumeric, cumin, coriander, chilli combination)

2 teaspoons

palm sugar (or brown sugar)

1 tablespoon

soy sauce

1/2 teaspoon

salt

2 teaspoons

tamarind puree

1 teaspoon

lemon juice

1 cup

coconut cream

1/2 cup

blanched peanuts, lightly toasted
Method
Slice chicken breast in half crossways and then into 6 strips.  Place chicken in a shallow dish with curry powder, sugar, soy, salt, lemon juice, tamarind and coconut milk .  Refrigerate for 30 minutes or longer if possible.
Thread chicken strips onto bamboo skewers that have been soaked in water.
Pan fry or barbecue chicken until coloured and cooked through.
Heat the marinade ingredients in a saucepan with the peanuts, allow to bubble and reduce a little.
Serve chicken with sauce on the side.