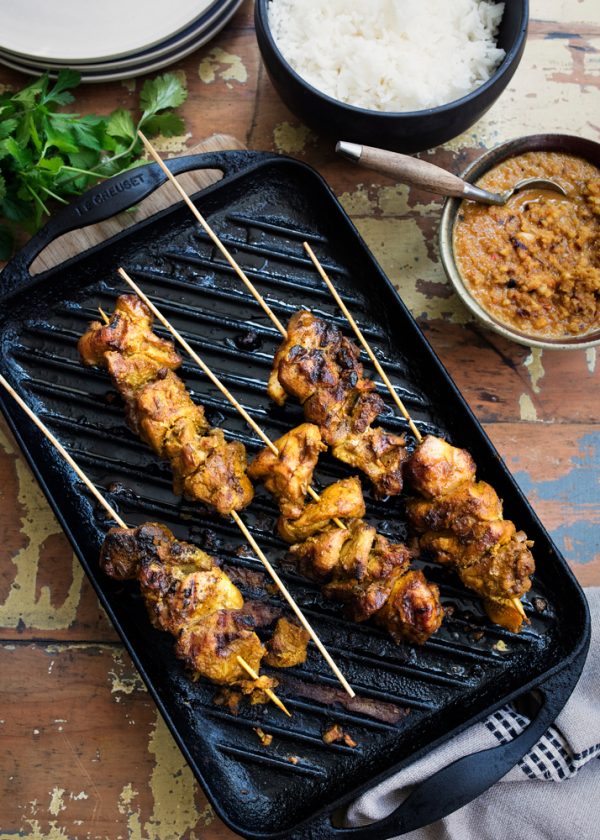 Taste the fragrant flavours of SE Asia in this delicious chicken satay.
The ingredient list may be long but the method is simple.
Ingredients
600g

chicken thigh fillets, cut into 3cm chunks

Marinade

2 teaspoons

chopped lemongrass

1 teaspoon

ground turmeric

1 teaspoon

grated galangal

1 clove

garlic, finely chopped

1 teaspoon

ground cumin

1 teaspoon

ground coriander

1 tablespoon

soy sauce

2 teaspoons

grated palm sugar or brown sugar

1/4 cup

oil

Satay Sauce

1

medium sized red onion, finely chopped

1-2

red chillies, seeds removed and finely chopped

1

clove garlic, finely chopped

1 teaspoon

grated galangal

1 teaspoon

finely chopped lemongrass

1 tablespoon

lemon juice

2 teaspoonns

grated palm sugar or brown sugar

1 teaspoon

ground cumin

1 cup

peanuts, roasted and finely chopped

2 teaspoons

tamarind puree

sea salt
Method
Place the chicken in a shallow dish and add the lemongrass, turmeric, galangal, garlic, cumin, coriander, soy sauce, sugar and olive oil.  Turn the meat to coat with the marinade and refrigerate for at least 1 hour but up to 8 hours.
Sit 10 bamboo skewers – with the pointed end facing up –  in a glass of water, this will stop them burning while cooking the chicken.
To make the peanut sauce, heat a film of oil in a saucepan over a gentle heat.
Add the onion, chillies and garlic and cook until tender.  Mix in the galangal, lemon grass, lemon juice and cumin, gently cook for 2-3 minutes before adding the peanuts, tamarind paste and enough water* to make a sauce like consistency.  The sauce will thicken more as it heats so adjust liquid accordingly.  Season to taste with salt.
Thread the chicken onto the skewers and cook over a barbecue or griddle pan for 10-15 minutes, turning at times, until well coloured and cooked through.
Serve with steamed rice, sauce, greens of choice and a scattering of coriander leaves.
*for added flavour, use coconut milk instead of water.