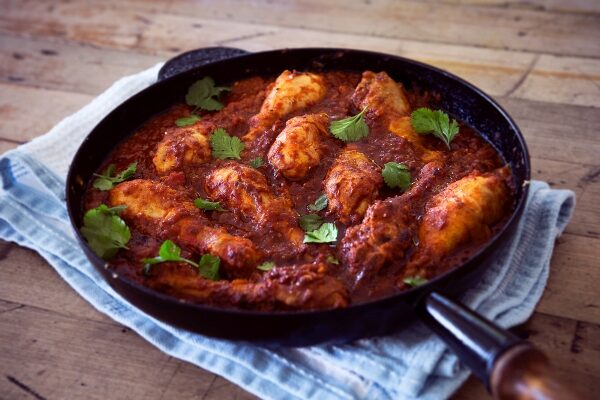 By
Ingredients
12

chicken drumsticks (depending on size)

3

onions, very finely chopped

4

cloves garlic, finely chopped

2cm

chunk of ginger, grated

2

tablespoons tomato paste

2

teaspoons ground coriander

2 teaspoons

ground cumin

1 teaspoon

smoked paprika

1/2 teaspoon

ground turmeric

pinch

chilli flakes

2 x 400g

cans chopped tomatoes

salt to taste

pinch of brown sugar

1/2 teaspoon

garam masala

coriander leaves
Method
Heat a film of oil in a large frying pan over a medium heat and brown the chicken, turning at times so the skin is coloured all over.
Remove the chicken from the pan, turn the heat to low, add another slosh of oil and then cook the onion and garlic until soft – about 15 minutes.
Add the ginger, tomato paste, coriander, cumin, paprika, turmeric and chilli flakes and cook for a few minutes until the spices are fragrant.
Return the chicken to the pan and then add tomatoes, salt and a generous pinch of brown sugar also if you like (sugar helps balance acidity in tomatoes).
Simmer for 20-30 minutes until chicken is thoroughly cooked and the tomatoes are thick and saucy. A few minutes before the end of cooking stir through the garam masala.
Taste and adjust seasoning if needed.
Serve with rice and sprinkled with coriander leaves.