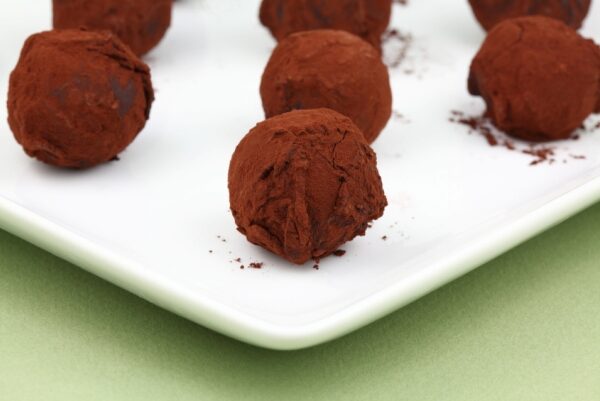 Ingredients
200g dark chocolate, chopped

1/3 cup cream

1/2 cup dried fruit mix

1 tablespoon brandy

1/4 cup finely chopped almonds or walnuts

1/4 cup Dutch processed cocoa powder
Method
Place the chocolate and cream in a bowl and sit over a pan of simmering water.
Heat until chocolate is almost completely melted and then gently stir until smooth.
At the same time place the fruit mince in a bowl and drizzle with brandy.
Stir the brandy soaked fruit through the melted chocolate along with the nuts.  Mix well and then refrigerate for several hours until firm enough to shape into balls.
Sieve the cocoa onto a shallow plate and dust each truffle with cocoa.
Return to the fridge and once firm store in an airtight container in the fridge.