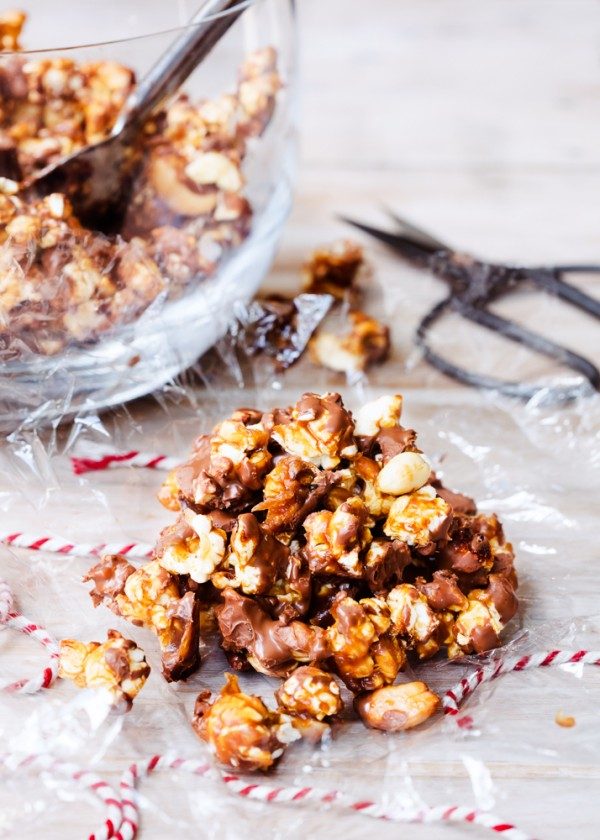 One bite is never enough, this popcorn is too good to resist.
Ingredients
125g

Anchor Butter (or 1/2 cup oil if you prefer)

1 1/4 cups

packed brown sugar

2 tablespoons

liquid glucose

1 teaspoon

vanilla extract

1/2 teaspoon

baking soda

6 cups

popcorn (not flavoured)

3/4 cup

roasted salted peanuts

1/2 cup

roasted salted cashew nuts

150g

milk chocolate
Method
Preheat the oven to 125 C (250 F)
Place the butter, sugar and liquid glucose in a saucepan and bring to the boil over a moderate heat, stirring to dissolve the sugar.  Allow to continue to boil over a gentle heat for about 6 minutes, taking care not to let it burn.
While the caramel is cooking, Arrange the popcorn and nuts in a baking paper lined roasting dish, making sure that the popcorn is in a single layer (if possible). Remove the caramel from the heat, stir through the vanilla and baking soda and then pour evenly over the popcorn and nuts. Bake for 40 minutes, stirring regularly so as not to burn. Allow to cool and then break into pieces.
Gently melt the chocolate in a bowl over a saucepan of simmering water.  Drizzle the chocolate over the caramel corn and then set aside until set.
Store in an airtight container.