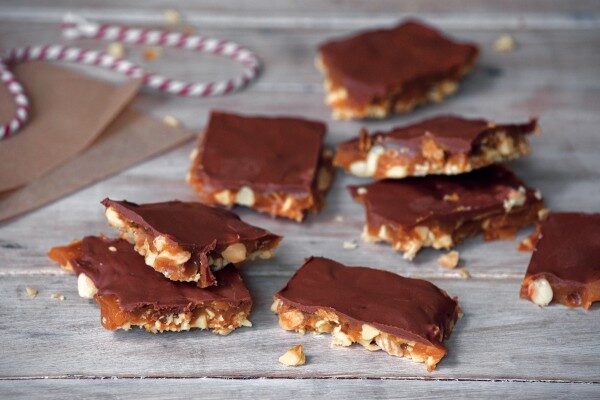 Ingredients
1 cup sugar

250g butter

1 1/2 cups nuts, (almonds, macadamia or peanuts) lightly toasted and roughly chopped

125g chocolate, chopped (milk or dark)
Method
Place sugar and butter in a small saucepan and stir over a low heat until the sugar is dissolved.
Bring to the boil and then continue to boil until the syrup reaches the hard crack stage, 150 C (300 F) on a sugar thermometer.  To test if the syrup is ready drop a small amount of mixture dropped into a saucer of cold water will immediately form brittle threads that snap when bent.  Once the sugar is at this stage it needs to be quickly removed from the heat before it burns. Carefully pour the nuts into the toffee mixture and then pour onto a buttered marble slab or a piece of baking paper on board or bench top.
Allow to sit for a minute or so and then evenly scatter the chocolate over the toffee.
Once the chocolate has melted spread it gently with a knife until you have a smooth coating.
Allow to set before cutting into chunks.