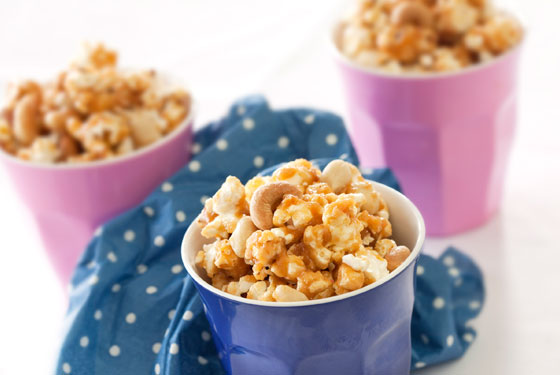 Ingredients
3-4

cups popcorn (ether natural or lightly salted flavour)

1/2 cup

cups cashew nuts, lightly toasted

1/2 cup

cup peanuts, ligthly toasted

125g

butter

3/4 cup

caster sugar
Method
Combine popcorn, cashew nuts and peanuts in a baking paper lined roasting dish.
Place butter and caster sugar in a saucepan and stir over a gentle heat until sugar dissolves and mixture comes to the boil.  Boil for 5-7 minutes without stirring until the mixture changes colour - it will go a light amber colour.  Gently swirl the pan to get an even colour.  Pour the caramel over the popcorn and nuts, trying to get an even coverage.
Allow to cool to warm and then serve.   These can also be served cold and can be made a day in advance and stored in an airtight container.