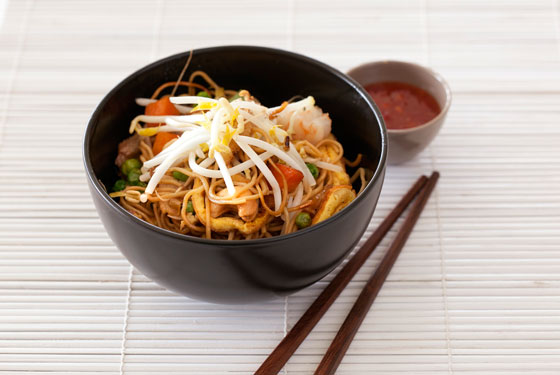 Serves 4-5
280g packet round egg noodles
2 tbsp oil
2 tsp sesame oil
3 eggs, lightly whisked
4 shallots, finely chopped (can use onion)
2 carrots, peeled and chopped
12 prawns, shelled and deveined (optional)
1/2 head broccoli, divided into florets
¼ cup soy sauce
2 tsp fish sauce (more if you like)
1 tsp hot chilli sauce (optional)
1 cup chopped cooked chicken or pork
½ cup frozen peas
3 spring onions, finely chopped
1 cup mung bean sprouts
½ cup cashew nuts, lightly toasted
Method
Cook the noodles in boiling water until just tender, drain well.
Heat 1 tablespoon of oil in a wok or very large frying pan and pour in eggs, tilt the pan until you get a thin layer and cook until just set.  Tip egg onto a plate and roll up into a log, slice into thin strips.
Heat remaining oil with sesame oil in the wok and gently cook shallots and carrot until just tender. Add prawns and toss until pink and then add broccoli and 1/4 cup water,soy sauce, fish sauce,  chilli sauce and noodles.  Toss and cook a minute or so before adding chicken, peas, spring onions and half of the sprouts.  Toss until hot and then mix through omelette strips.  Serve topped with remaining mung sprouts and cashew nuts.