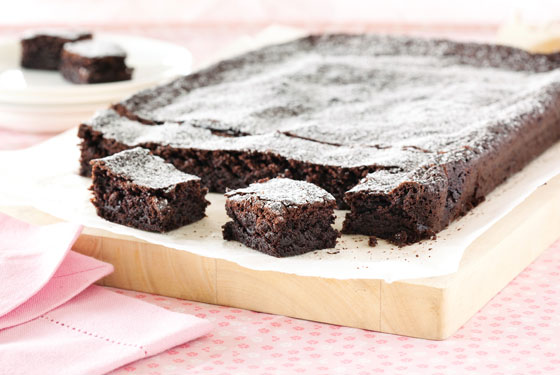 Thanks to Nicola for the base recipe for this –  it is the recipe I have wanted for ages!
200g dark chocolate, chopped
200g butter
2 cups sugar
4 eggs
3/4 cup flour
1 teaspoon baking powder
Method
Preheat oven to 160 C.  Place butter in a small saucepan and melt, add chocolate and gently melt, stirring at times.
Beat sugar and eggs with an electric mixer until pale and creamy.
Pour in the butter and chocolate mixture and the sifted dry ingredients.  Mix until well combined
Pour mixture into a lined 20 x 30cm slice pan and bake for 45 minutes or until the brownie feels firm and the top has a crust.
Allow to cool and then cut into squares or triangles.
Variations:  dot the surface with frozen raspberries, mix through chopped walnuts or macadamia nuts, mix in white chocolate bits.