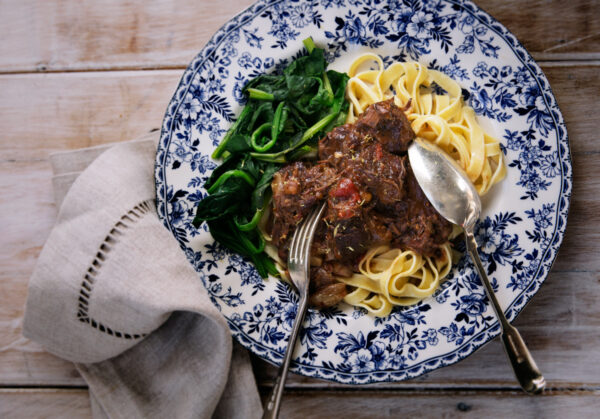 Ingredients
1 kg

beef stewing steak (I use cross cut blade)

1/4 cup

flour seasoned with salt and pepper

650g

small onions or shallots

3 cloves

garlic

3/4 cup

red wine

3 tablespoons

red wine vinegar

1 teaspoon

dried oregano

1

bay leaf

400g can

tomatoes

1 cup

rich beef stock

finely grated lemon rind
Method
Chop beef into rough chunks approximately 3cm diameter.
Dust the beef with seasoned flour.
Heat a film of oil in a large frying pan over a medium heat and brown beef in batches, transferring to a large heavy saucepan or casserole once well coloured.
Peel the onions leaving the roots intact and peel and halve garlic.
Add the onion and garlic to the pan with a knob of butter and gently cook until golden brown.  Transfer these to the saucepan.
Increase the frying pan heat and deglaze the pan with the red wine, allow it to bubble and reduce by half before pouring it into the saucepan.
Add the red wine vinegar, oregano, bay leaf, tomatoes to the saucepan and season well with salt and black pepper.  Cover and simmer over a very gentle heat for 2 1/2 hours or longer until beef is tender and surrounding liquid is saucy.
Serve sprinkled with finely grated lemon rind accompanied by pasta or mashed potato.