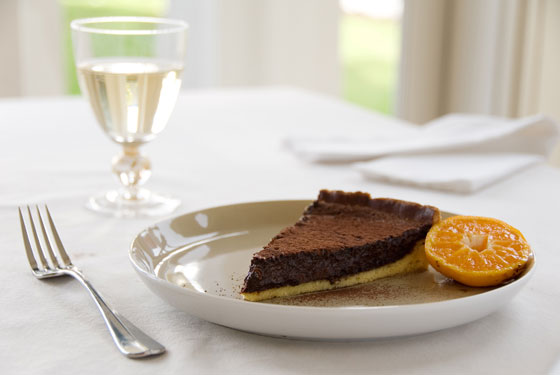 This is one of my favourite desserts. Use good quality chocolate and Dutch cocoa – it really does make a difference.
serves 8-10
Ingredients
350g sweet short crust pastry
1 1/2 cups cream
3/4 cup milk
1/2 cup caster sugar
200 g good quality dark chocolate, chopped
4 egg yolks
1 tablespoon Dutch cocoa
[
Method
Preheat oven to 180 C
Roll the pastry out to approximately 3 mm thickness and line a 28 cm tart pan.
Cover pastry with baking paper and then baking rice, beans etc… and cook for 12-15 minutes until pastry is just cooked.
Remove paper and rice and cook a further 5 minutes until pastry is golden. Reduce oven heat to 150 C.
Gently heat together cream and milk until just about boiling.
Remove from heat and add chocolate, stir until smooth. Whisk together egg yolks, sugar and cocoa. Once chocolate mixture has cooled slightly pour into egg mixture and mix well.
Pour filling into prepared pastry shell and bake for 20 minutes until filling has just set.
Allow to cool before slicing.
Serves 8 - 10