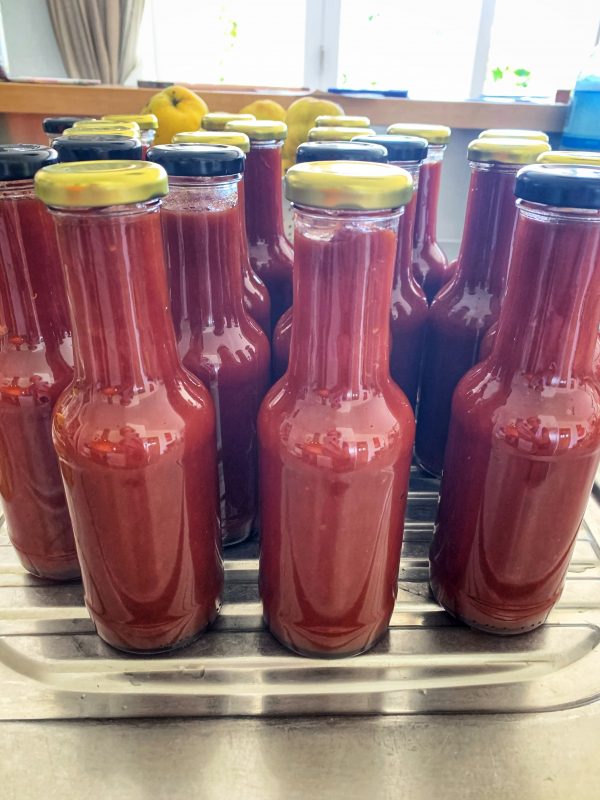 This seriously is the only tomato sauce recipe you will ever need. Great with pies, sausage rolls and good old fish n chips.
The tomato sauce recipe I used to make had glacial acetic acid but as this is becoming difficult to find I have opted for vinegar instead.
Yield:
Makes 24 x 200ml bottles
Ingredients
12.5kg

ripe tomatoes, roughly chopped

2kg

onions, peeled and chopped

1.5kg

sugar

1 litre

malt vinegar

250g

plain salt

60g

cloves

60g

whole allspice

40g

black peppercorns

30g

cayenne pepper
Method
Place tomatoes, onions, sugar, malt vinegar and salt into a large preserving pan.
Tie the spices in muslin and add to the pan.
Bring to the boil and then simmer for 4 hours or until well reduced and thickened.  Stir regularly to make sure it isn't catching.
Allow to cool until easy to handle.  Pass through a mouli or sieve to remove seeds and skins.  Return to the pan, bring to the boil then pour into sterilised bottles and seal.