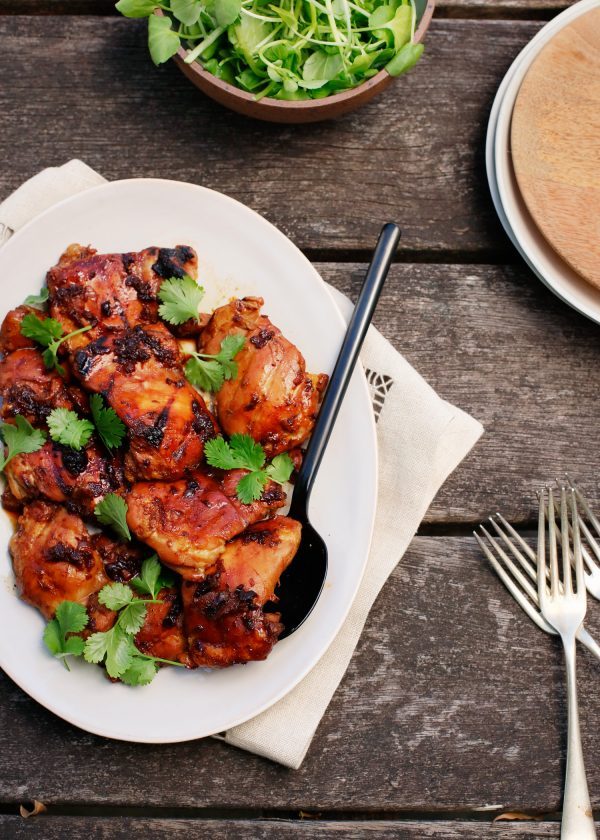 This chicken is a family favourite. It is best if left to marinate for at least a few hours.
Vary the chilii sauce quantity to suit how spicy you want the chicken to be, adding more if you like it hot.
Ingredients
600g

chicken thigh fillets

1/3 cup (80ml)

soy sauce

1 tablespoon

brown sugar

1/2 red onion

finely chopped

2 teaspoons

srirachi sauce (or other chilli sauce)

2 tablespoons

rice wine

1 teaspoon

sesame oil

2 teaspoons

grated ginger

2 cloves

garlic, finely choped

coriander leaves
Method
Chop chicken thigh fillets in half.
Place the chicken in a resealable plastic bag and add the remaining ingredients except the coriander leaves.
Seal the bag and then place in a shallow dish and refrigerate for up to 8 hours.
Heat a barbecue hot plate or grill on medium – high heat. Lift the chicken from the marinade and cook for 10-12 minutes, turning at times, until well coloured and cooked through.
Serve sprinkled with coriander leaves.