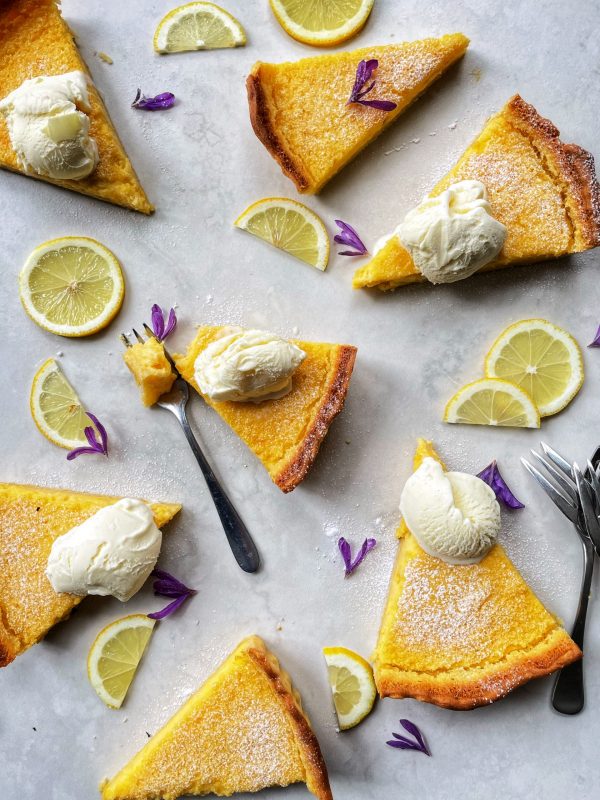 Sweet and tangy, who doesn't love a good lemon tart.
I recommend using a tart lemon such as YenBen or Lisbon. Meyer lemons are popular but won't give the same tang.
Either make your pastry or buy sheets of sweet short pastry.  To bake blind, cover the pastry with baking paper and then add weights to stop the pastry rising, bake at 180 C for about 10 minutest before removing the paper and then cooking for a further 3-5 minutes until lightly coloured.
Ingredients
26cm

shortcrust pastry tart shell, baked blind until a pale biscuit colour

1 cup

cream

150g

white chocolate, roughly chopped

5

eggs

1/2 cup

sugar

1/2 cup

lemon juice

finely grated zest of 2 lemons
Method
Preheat the oven to 160 C.
Heat the cream in a small saucepan until almost boiling.  Remove from the heat and add the chocolate.  Set aside for about 5 minute and then stir until smooth.
Beat the eggs and sugar in a large bowl until pale and creamy.
Mix in the lemon juice, zest and the chocolate cream.
Pour into the tart shell and bake for 30 minutes until just slightly wobbly in the centre.
Allow to cool before cutting into slices.