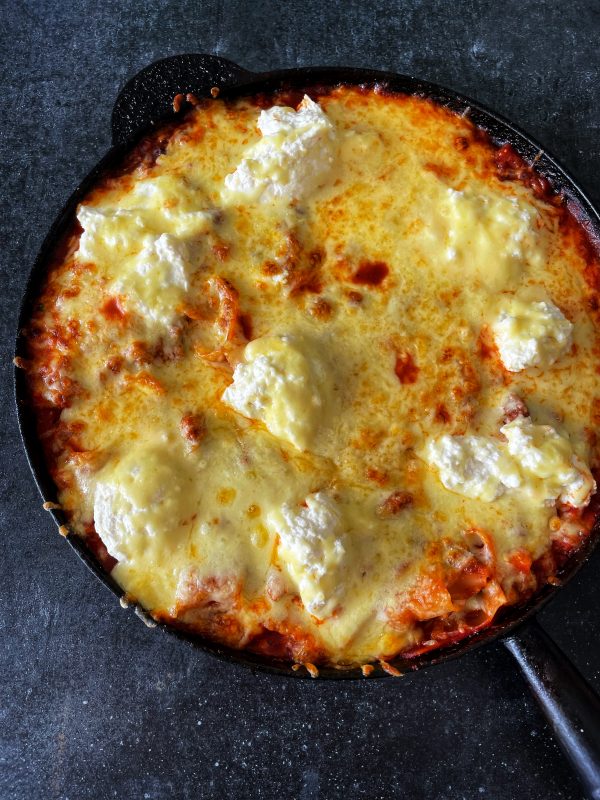 This lasagne has had some recent popularity on TikTok and for good reason, it is so easy and makes a great lasagne.
There are plenty of versions and this one I think is really good, the clouds of ricotta join in with the sauce as it is served.
You do need a large 28cm (or bigger) frying pan, if not then you may have to go to oven baking.
I like the flavour of using combined beef and pork mince but that is entirely personal.
For a vegetarian version use lentils instead of mince.
Ingredients
1 tablespoon

olive oil

300g

beef mince

300g

pork mince

1

onion, finely chopped

2

cloves garlic, finely chopped

1

large carrot, diced

1

stalk celery, finely sliced

1 1/2 teaspoons

dried oregano

700ml

tomato and basil passata

1 tablespoon

tomato paste

2 1/2 cups

water

150g

dried pasta sheets

250g

ricotta

1/2 cup grated

parmesan cheese

1/2 cup grated

mozzarella cheese
Method
Heat the oil in a large 28cm frying pan over a medium-high heat and brown the mince.  Once is well coloured then add the onion, garlic, carrot and celery.  Reduce the heat to low and cook for 8 minutes or so, until the onion is starting to soften.
Add the oregano, passata, paste and water and bring to the boil.
Break in large pieces of lasagne sheets and season generously with salt and pepper.
Cook for 15 minutes until the pasta is just tender.  Add a little more water during cooking if needed and ensure that the lasagne pieces don't clump together.
Once the pasta is tender stir through half of the mozzarella and Parmesan cheeses.  Spoon over  dollops of ricotta and then sprinkle with the remaining cheese.
Heat the grill and sit the pan under the grill until the cheese is melted and golden.
Serve with a green salad.