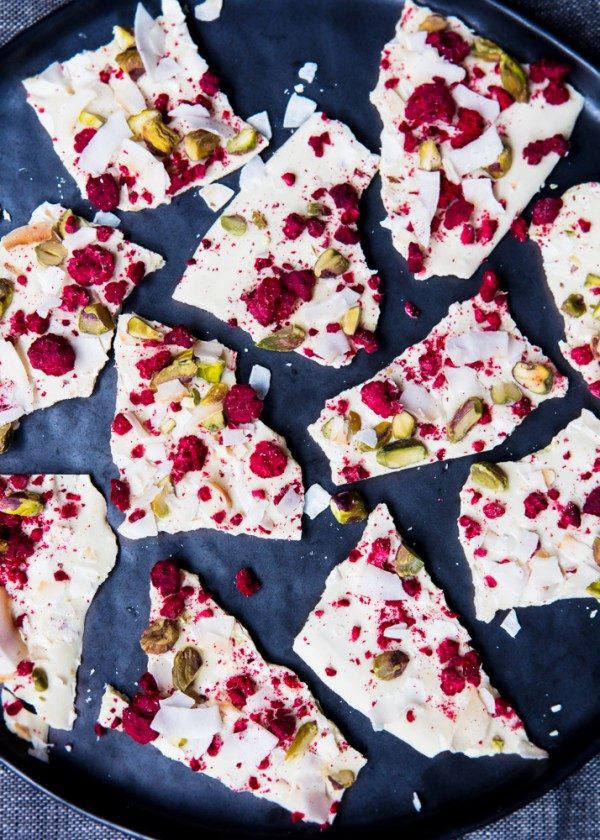 Pretty to look at and lovely to eat, chocolate bark can be made with a variety of dried fruit and nuts.
Ingredients
250g

white chocolate

70g packet Tasti

pistachio nuts, lightly toasted

1/3 cup Tasti

coconut chips, lightly toasted

1/4 cup

freeze dried raspberries
Method
Line a chopping board with aluminium foil.
Roughly chop the white chocolate and then gently melt in a bowl over a saucepan of simmering water. Once the chocolate starts to melt, turn off the heat and leave to sit for 5 minutes before stirring until smooth.
Pour the white chocolate onto the foil and spread into a rectangle approximately 3mm thick.
Roughly chop the pistachio nuts and coconut chips, sprinkle over the chocolate.
Scatter over a few whole raspberries and then crush the others a little with your fingers before sprinkling over the chocolate as well.
Set aside to set and then break into shards.
Store in an airtight container either in the fridge or a cool spot.