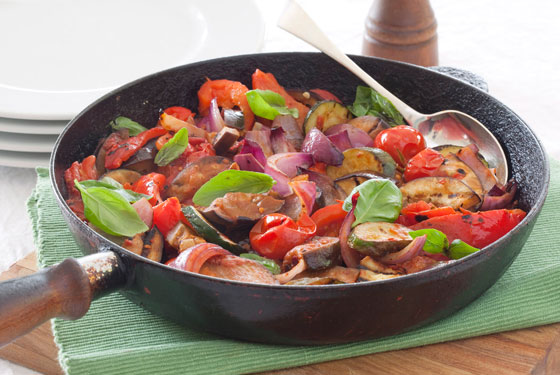 serves 4
Ingredients
1 large eggplant cut into chunky pieces
3 medium courgettes, thickly sliced
1/2 cup extra virgin olive oil
2 red capsicums
3 cloves garlic, sliced
2 red onions, sliced
1/2 cup red wine
4 large ripe outdoor tomatoes, chopped (or 400g can chopped tomatoes)
1 tablespoon oregano
1/2 cup kalamata olives pitted
sea salt
freshly ground black pepper
1/2 cup torn basil leaves
Method
Brush eggplant and courgettes with oil and grill or barbecue until tender.  Cook capsicum on barbecue or grill until skin blisters and blackens.  Allow to cool slightly and then rub off skin, remove seeds and cut into strips.
Heat a little oil in a large frying pan and gently cook garlic and onion until tender. Add the eggplant, peppers and zucchini to the pan along with the remaining olive oil, red wine, tomatoesm oregano and olives. Season with sea salt and cover and cook until vegetables are tender.
Sprinkle with torn basil leaves and freshly ground black pepper.