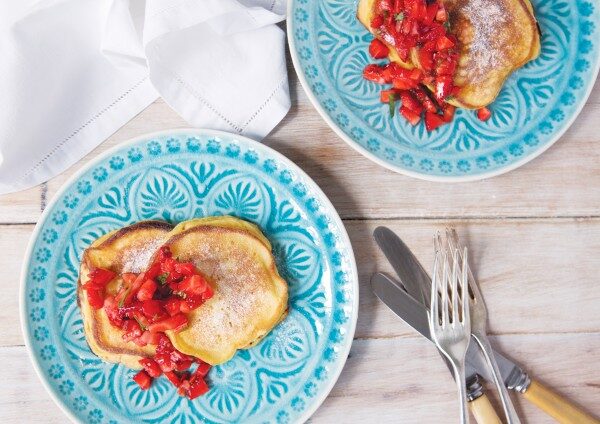 Ingredients
1 punnet strawberries.

1 teaspoon thyme leaves or finely chopped basil (optional)

250g ricotta cheese

¾ cup milk

2 eggs, separated

1 cup flour

1 teaspoon baking powder

r pinch of salt
Method

Chop strawberries and place in a bowl with the thyme/basil if using.  Gently mash with a potato masher tor press up some liquid.
Mix the ricotta, milk and egg yolks in a bowl.  Sift over combined flour, baking powder and salt, gently mix to combine.
Whisk egg whites until stiff and gently fold into the ricotta mixture until just mixed.
Heat a knob of butter in a large frying pan over a medium heat. Drop heaped tablespoons of mixture into the pan and cook the hotcakes until golden on both sides.  Remove from the pan and cover with a clean tea towel until all hotcakes are cooked.
Serve warm hotcakes dusted with icing sugar, a spoonful of strawberries and a dollop of thick yoghurt if you like.