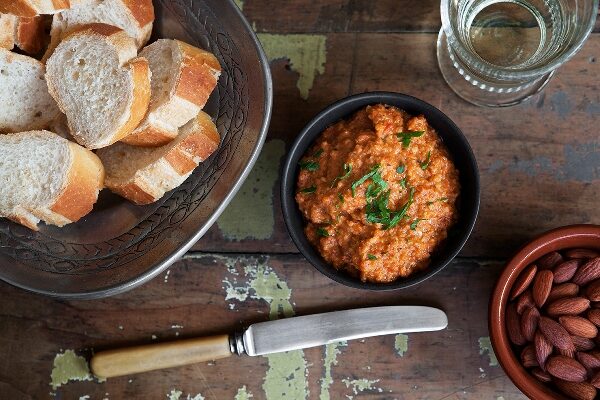 This sauce is easily thickened with more bread or thinned with a little more vinegar and olive oil.
Serve with crispy calamari, prawns, chicken, lamb or simply spooned onto crusty bread
Ingredients
2 red peppers (capsicum)
2 medium vine ripened tomatoes
3 cloves garlic, peeled
1 tesaspoon sea salt
1 1/2 teaspoons smoked paprika
1.5 cm thick slice of bread toasted (ciabatta etc..)
1 1/2 tablespoons sherry or red wine vinegar
1/2 cup almonds, toasted (or 1/4 cup of blanched hazelnuts and 1/4 cup almonds)
1/4 cup extra virgin olive oil
Method
Preheat grill.
Arrange peppers and tomatoes in a baking dish and place under the grill for several minutes until pepper skins have blackened and blistered. Turn peppers and continue to grill until blackened all over. Remove tomatoes from the pan as soon as skin has loosened.
Allow to cool and then slip skins off peppers and tomatoes with your fingers, remove seeds and core from the peppers.
Place the garlic, sea salt, paprika and toasted bread in a food processor bowl and process until finely chopped. Add nuts and continue to process to a fine paste. Add capsicum, tomatoes and vinegar,with the motor running drizzle in olive oil until sauce has reached a thick and creamy consistency.