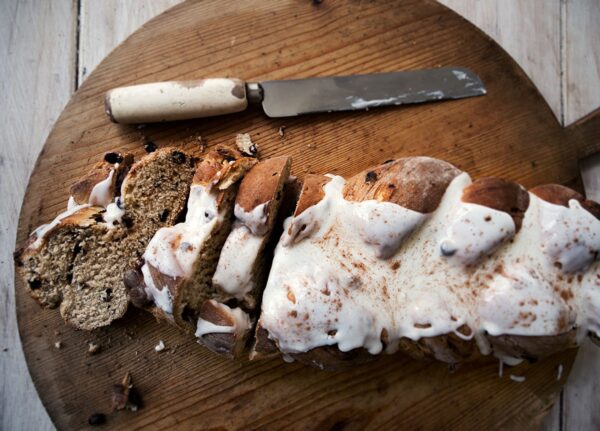 Ingredients
1 ½ cups milk

2 teaspoons

dried active yeast granules

2 teaspoons

caster sugar

5 cups

high grade flour

1/2 cup

caster sugar

3 teaspoons

ground cinnamon

2 teaspoons

mixed spice

3/4 teaspoon

salt

75g

butter, melted

1

egg, whisked

1 1/2 cups

currants or sultanas

2 cups icing sugar

2-3 tbsp milk

cinnamon to dust
Method
Heat the milk just until lukewarm in a small saucepan over a low heat or in the microwave and then stir in the yeast and 2 teaspoons of sugar.  Set aside for 5 minutes until frothy.
Sift the flour, 1/2 cup sugar, spices and salt into a large bowl and make a well in the centre.
Pour in the milk mixture along with the butter and egg and finally the dried fruit.  Mix with a knife until the mixture comes together to a dough.  Turn out and knead until smooth and elastic.
Place the dough in a large greased bowl and cover loosely.  Set aside in a warm spot until doubled in bulk – 1 – 1 1/2 hours.
Preheat the oven to 180°C. Separate dough into 3 equal balls and then roll out into lengths approximately 45cm long.  Plait the strands together into a loaf and gently press the ends together. Place on a cold baking tray.
Bake for 25 minutes until loaf feels crusty and cooked through.
Allow to cool on a wire rack and then ice with combined icing sugar and milk and dust with cinnamon.