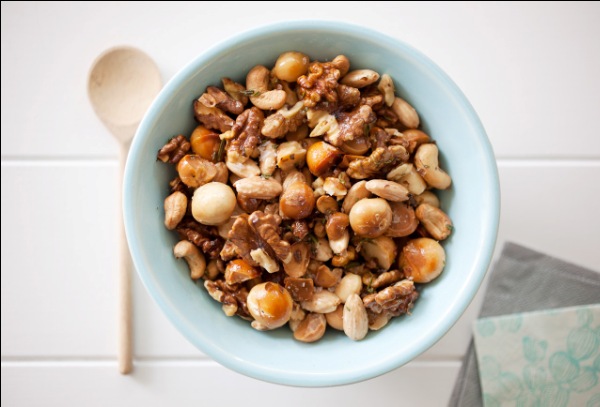 I like to serve these nuts warm from the oven.  I have them ready to roast and then about 20 minutes before guests are due to arrive I put them into the oven so they are ready, warm, at the right time.
By
Ingredients
1 cup

macadamia nuts

1 cup

walnuts

1 cup

cashew nuts

1 cup

blanched almonds

2 teaspoons

chopped rosemary

1 -2 tablespoons

extra virgin olive oil

1 teaspoon

sea salt
Method
Preheat oven to 180 C.  Place nuts and rosemary in a single layer in a roasting dish.  Bake for 15 minutes until golden, tossing half way through cooking.   Once nuts are golden then remove from the oven and drizzle over oil  and sprinkle with sea salt.  Mix well.