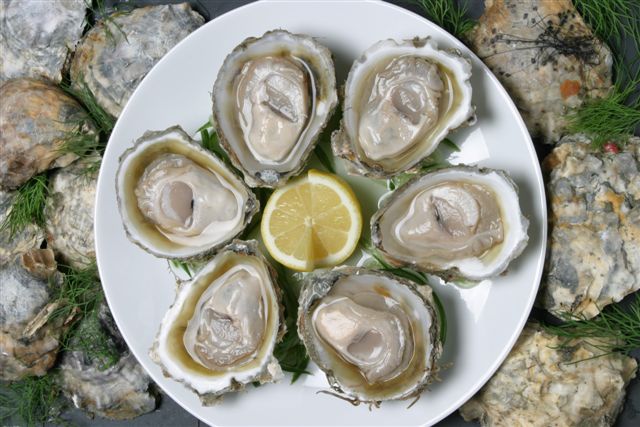 Bluff (dredge) Oysters Tio Paruparu; Tiostrea Chilensis 
Fondly known as Bluffies, Bluff oysters live in gravel or coarse sand in the seabed, in waters 25 to 50 metres deep. While they can be found in small patches around New Zealand's coast (Tasman and Golden Bay have them too) ,it is notably in the cold clear waters of the Foveaux strait where they are found in dense beds.. The same species is found in Chile.
Bluff oysters are available from March to August and the start of the Bluff oyster season sparks great excitement around the country.
Their silky smooth texture and pure sea fresh flavour has oyster lovers rating these as up there with the best oysters in the world.
Purchasing
The majority of Bluff oysters available in shops are in pottles, while this does keep the oysters fresh hopefully we will see a time soon when live Bluff oysters are available as well. . If you happen to find  live Bluff oysters, their shells should be tightly closed or close slowly when tapped. These should be stored in an open container with a damp cloth over them, in the fridge, and used within 24 hours.
To open the oysters, Hold the oyster firmly in a tea towel on a bench with the flat shell uppermost. Push the point of an oyster knife into the hinge, located at the narrowest point, and move the knife back and forth until the hinge breaks and you can slide the knife between the 2 shells. Twist the point of the knife upwards to lift up the top shell Flick the oyster from the bottom shell and remove it, picking out any little bits of shell. Eat immediately.
Sustainability
Bluff oysters have been commercially fished in the Foveaux Strait since the late 1880s. Over that time, total landings of oysters have varied from 7.5 to 77 million oysters annually.
Bonamia exitiosa, a parasite identified in 1986 and found globally, caused high mortality in the oyster population. In response, reduced catch limits were put in place, including a period of closure from 1993-1996. The fishery has since recovered and catch limits are now being increased. Regular monitoring for disease outbreaks is in place. In 2012, the catch limit was set at 14.95 million oysters, of which 77% was harvested (11.5 million oysters).
Health and Wellbeing
Bluff oysters are a good source of iodine, selenium, zinc, vitamin B12 and vitamin C, and are a source of copper, magnesium, phosphorus, potassium, riboflavin (vitamin B2), niacin (vitamin B3) and vitamin D.
While purists would argue that Bluff oysters are at their best as is, there are others who like to incorporate them into recipes such as;
Leek and Potato Soup with Oysters – really delicious
Oysters with Asian Flavours
Al Brown's Oyster Rockefeller
Canape Oysters in a Champagne Sauce
Peter Gordon Beer Battered Bluff Oysters
How do you like your oysters?
Natural or cooked and if cooked then what are your favourite recipes?