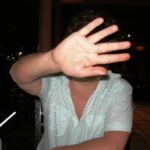 Virgil Evetts
After many years of treading the 9-5 commuter grind, I'm now working from home. So far it's a welcome change and I'm liking it more every day. I could get quite used to the hours of uninterrupted silence to just work, the freedom and time to do unpleasant but niggly cleaning chores that haven't made the grade over my previously precious weekends (like washing the windows inside and out), and most importantly the time to really focus on the next chapter of my professional life.
It's strange and exciting and pregnant with possibility (just as my best beloved is pregnant with person). The only downside I've discovered so far is that I'm not very good at remembering to stop and eat, and when I do surface from the keyboard , I don't really know where to start. In a real job, there are either designated break times or friends and colleagues (not necessarily the same thing) to knock on your office door and shake you from your reverie. There are also, if you're lucky, plenty of options on the reasonably-priced-but-lip-smackingly-good lunch front.
At home, on one's own-some, it's all too easy to sit down to work at 7:30am and not stand up again for many, many hours. I live close enough to the local cafes to pop out for a pick-me-up, but the local cafes are mostly pretty blah and at any rate that's no way to be frugal. So then there is the fridge. I don't do left-overs. Never have. Once I've cooked a meal, then eaten it, I'm done with it altogether. My best beloved likes a hot lunch anyway, and these days I feel her needs are greater.
So at the moment I'm struggling to find inspiration. By day I'm subsisting mostly on toasted sandwiches (Vogel's bread, a little Gruyere and a smear of sweet chilli sauce). Once a week I might treat myself to sushi or a bagel with salmon in the village, or if I'm in the city something cheap but brilliant like roast duck on rice, bulgogi or ramen and gyoza. But most days, at home alone, I'm stuck on a one-track lunch loop. Gruyere toasted sandwich. Repeat. Morning and afternoon tea, if I remember them, are taken care of thanks to a bout of baking I'm working out of my system (after a brief and ill-advised flirtation with store-bought chocolate-covered doughnuts). I'm loving Louise cake just now, but it really isn't lunch. I can't be the only person caught up in this dilemma. What does one do about lunch when home all day?