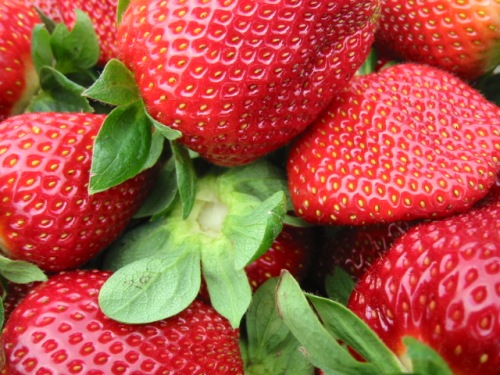 Virgil Evetts
How can John Lennon be 70? Well he can't be, obviously, but it is at least 70 years since he was born. Maybe it's because he will forever be frozen as performer in his prime that I find it so hard to accept the idea that Strawberry Fields Forever, a song that I took very literally as a greedy little boy, was written by a guy who would now be a total geezer – if it weren't for those bullets.
As I grew up I came to realise (with some reluctance) that the song wasn't about strawberries at all. I'm not sure it's about anything coherent actually, but it will forever make me think of sweeping fields of gorgeously fragrant, sanguineous strawberries. It's very nice timing really that Lennon's birthday coincides with the beginning of the strawberry season in our neck of the woods, if for no other reason than it gives legitimacy to an otherwise tenuous opening paragraph; so thanks, John.
Strawberries are one of the world's most popular fruit and although cheap as chips in peak season they always have an air of sensuous luxury about them. Their heady fragrance and heartbreakingly tender flesh is the stuff of true contentment. In New Zealand, all commercially grown strawberries are hybrid cultivars. They are typically large, shiny, red throughout and very fragrant. Flavour and sweetness can vary tremendously depending on the weather leading up harvest. Avoid buying strawberries after days of cool wet weather. Not only will the fruit be unripe, they will be overfilled with water and therefore insipid.
Admittedly strawberries are only just appearing in the shops as I write these words, but in the coming weeks, the skies will clear, the temperatures will rise and the current trickle of fruit will become a torrent.
In my opinion cultivated the fruit are at their best before Christmas, and to make the most of them you really have to work quickly.  At the beginning of the season, when prices are still high, I prefer to really savour strawberries. There will be plenty of time for detail and complexity later on, but with my first few punnets I like to keep things simple.
The old Wimbledon classic of strawberries and cream – with perhaps just the lightest dusting of icing sugar – is a very good start. When I was at primary school, the highly incongruous end of the year reward for the hard-working crossing monitors was a strawberry -cream lunch, followed by a day at Rainbow's End. I've never really cared for rollercoasters, but the promise of those strawberries kept me in a sash and fluro vest for several years.
Try hulled and halved strawberries dressed with lemon juice, icing sugar, a dash of Angostura bitters and plenty of shredded fresh mint. Serve chilled with our without cream
Slightly more elaborate, but still sparse and suitably reverential, is that lovely jumble of meringue, strawberries and fresh cream that is Eton Mess. 
On a related theme it's hard not be seduced by the many charms of a strawberry roulade. Fresh cream, meringue and strawberries are the holy trinity of many a fine dessert, and are sure to please however you bring them together.
As the faucet that is the strawberry season opens up, one starts looking for more inventive ways make the most of the glut:
Strawberry pie is a sticky, sweet taste of old-fashioned Americana. It makes a mighty fine dessert hot or cold, and should be drowned in cream to be enjoyed at its artery-clogging best.  
Strawberry shortcake is a simple but startlingly affective assemblage of short-crust base and fresh strawberries. It's one of the most famous examples of the American baking repertoire, mostly because of the iconic 1980s doll of the same name – and fragrance.
Strawberry coulis is my favourite topping for good vanilla ice-cream. It takes but minutes to make and conveys the very essence of the fruit. Just quietly, I once drank an entire batch of coulis intended for a pot luck dinner. And I am not ashamed.
To make strawberry granita add one cup of water to the coulis recipe, strain and place in the freezer. When frozen break up with a fork and refreeze.  Serve with a few drops of rosewater and a mint leaf or two. Heaven on a hot summers day.
 Strawberry jam is arguably the high queen of all jams yet often is the most poorly executed. This recipe from Helen's Radio Live archives is a superb and reliable crowd pleaser.  In my books the only real way to eat strawberry jam is ladled onto fresh scones with billowy clouds of whipped cream.
Is there any finer ice cream flavour than strawberry? I think not. When the sun really starts to throw its weight around I dust off my ice cream maker, and get to work filling the freezer with deliciously fatty frozen delights. Despite my annual intentions to branch out, very few other flavours get a look in.
Strawberries dressed with balsamic vinegar were all the rage a few years back. And it certainly can be breathlessly lovely thing. But what most chefs and food writers at the time failed to grasp was that that dish demands Aceto Balsamico Tradizionale – a pricey and rarefied  elixir, not common old supermarket balsamic vinegar. Please don't assault good strawberries with anything other than real deal. If you're unsure of what you've got in the pantry the safest indicator is price. Anything under $45 is just plain old vinegar. Sorry
Strawberry liqueur
Every summer I try to put down a couple of bottle of strawberry liqueur. This gorgeously fragrant elixir is a doddle to make, and dangerously easy to drink.
Fill a large preserving jar with strawberries, cover with vodka, seal and forget about it for six months. Sometime around mid winter, open the jars, strain and sweeten to taste with sugar syrup. Usually the fruit will have disintegrated into a rather sad and flavourless pulp so are best discarded. Strawberry liqueur can be drunk neat, used in champagne cocktails or poured over ice-cream.
To the best of my knowledge, wild or alpine strawberries (Fragaria vesca) are not grown commercially in New Zealand. This is a gap in the market just waiting to be filled. The tiny fruit of these species strawberries (i.e. not hybridised) don't look like much, but offer an intensity of flavour and fragrance that really has to be experienced to be believed. Alpine or wild strawberries can be either white or red, with significant differences between the two. The red form offers the more traditional strawberry flavour but with a floral, honey-like accent, while the white form tastes of Muscat grapes, with only a slight trace of strawberry. 
Although you won't find the fruit in local shops, plants are widely available through garden centres. Usually sold as Alpine Strawberries, they don't produce anything like the bumper crops of their hybrid cousins (Fragaria × ananassa), and they are prone to weediness, but make up for these shortcomings with the exuberant quality of their fruit.
Happy Strawberry Season!