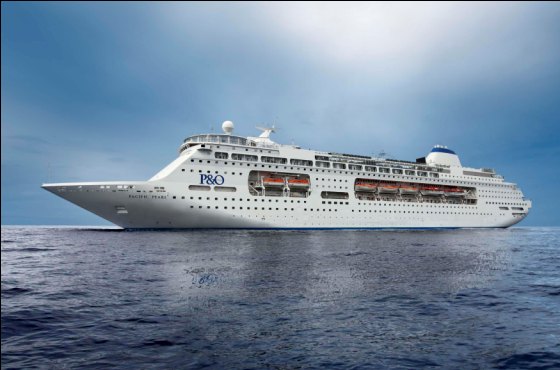 For food lovers, a P&O Cruises gourmet food and wine cruise is a unique way to expand your culinary horizons.

P&O is the best-known name in ocean cruising in this part of the world, and in the last three years it's shown that being an icon doesn't stop you from being amazingly innovative. The three-day gourmet food and wine cruises that P&O operates out of Sydney, Brisbane and (since last summer) Auckland, have proven highly popular – and it's easy to see why.
To the advantages that cruising offers as a short break or a longer holiday – no driving, no fussing with unfamiliar currencies, unpacking only once, and inclusive fares – P&O adds a unique range of gastronomic delights. They are the result of a complete transformation of P&O's onboard food and beverage offerings, with all ships now offering fresh, gourmet cuisine that reflects New Zealand and Australian tastes, along with a wine list featuring only Australian and New Zealand labels. On every P&O food and wine cruise you'll also find a busy programme of presentations, workshops, activities and events designed to enhance your knowledge of food and wine.
You'll also find celebrity chefs. For the inaugural New Zealand cruises, an eight-course degustation menu created by celebrity chef Anne Thorp was a highlight of the onboard dining programme. She is well known for her Kai Ora show which screens on Sky's Food Channel and Maori TV.
Flying the flag for Australian cuisine on three P&O ships are five-star Salt Grill restaurants overseen by the Australian celebrity chef, Luke Mangan. Since establishing the first land-based Salt restaurant in Sydney in 1999 – and the second due to open in August at the Hilton Gold Coast – Mangan has carved out a stellar career as an international chef with restaurants in Sydney, San Francisco and Tokyo, and plans for further ventures in Bali and Singapore.
For a small premium, diners at Salt Grill on Pacific Dawn, Pacific Jewel and Auckland-based Pacific Pearl will be rewarded with the tastes of Mangan's signature dishes, including the justly famous Crab Omelette in Miso Broth and for dessert, the equally celebrated and wonderfully intense Liquorice Parfait. Elegant and intimate in style, Salt Grills are a must-do experience for discerning diners. Advance bookings are essential though as each Salt Grill restaurant seats only 60 people.
Not that diners in other venues miss out. The main a la carte restaurant on each P&O ship rates an impressive four stars, with service standards you wish you could enjoy all the time back on land. In May this year, P&O added yet another innovation to onboard dining with the introduction of an exclusive Chef's Table in the Wine Room of Pacific Pearl's Waterfront Restaurant.
Offered up to three times on every Pacific Pearl cruise, The Chef's Table dinner features a specially designed seven-course degustation menu, paired with New Zealand wines, for up to 14 passengers. Priced at AU$75 a head including wine, the three-hour Chef's Table experience starts with pre-dinner cocktails, canapés and an introduction by the ship's Executive Chef. Diners then enjoy a tour of ship's main kitchen before enjoying their dinner, with the chef introducing and explaining all seven courses. The Chefs' Table concept will be extended to Pacific Jewel later this year.
In addition to Salt Grill, Chef's Table and the innovations of each cruise's guest chef, the ever-changing programme of master classes and tastings on P&O gourmet food and wine cruises provides genuine opportunities for learning. Thanks to its considerable purchasing power, P&O features a huge range of premium regional foods and beverages from throughout Australasia, and the presenters of the master classes and tastings are selected for their expertise and their ability to convey knowledge.
For a small premium, you may find yourself, on an Australian-based cruise, getting acquainted with the keynote wines of, say, the Hunter Valley, where semillon is the regional star, or come away from your trip with a renewed appreciation for South Australian rieslings. On an Auckland-based cruise your tasting session might explore wines from a New Zealand region or offer fascinating new insights into matching food with wine. The learning doesn't stop there: recent programmes on Auckland-based cruises have included cheese tastings, coffee appreciation, lessons in cocktail making and a session relating to beer. As a memento, you can even purchase P&O's Cruises' first-ever cookbook – aptly named holidays – which features over 60 of the cruise line's signature dishes and passenger favourites.
When you're not eating, drinking or thinking about food and wine, a P&O gourmet food and wine cruise of course offers plenty of other ways to relax, enjoy and pamper yourself. Spoil yourself at the onboard spa, unwind by the pool, hit the walking trail (very advisable) or just find a quiet corner and curl up with a good book. Chances are though you'll drift past the liner's big array of bars, buffets, bistros, coffee shops, pizzerias and night clubs… If you were so minded, it would probably take you three full days to get around them all.
For bookings and more information about P&O gourmet food and wine cruises, contact your local bonded travel agent, call 0800 780 716 or visit www.pocruises.co.nz