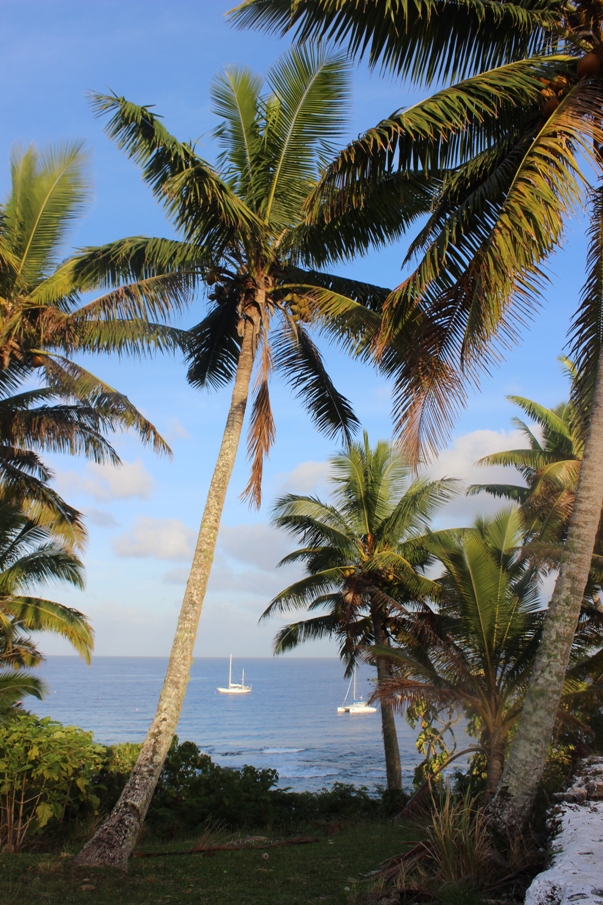 Sitting here eating fresh from the ocean delicate tuna sashimi it is easy to shut my eyes and imagine I am somewhere fancy in Tokyo, whereas in fact I am here in Niue, the Pacific island only a few hours from NZ that so many of us know little about.
The Japanese Kaiika restaurant is just one of the many gems of Niue and over my 5 day trip there are plenty more to discover.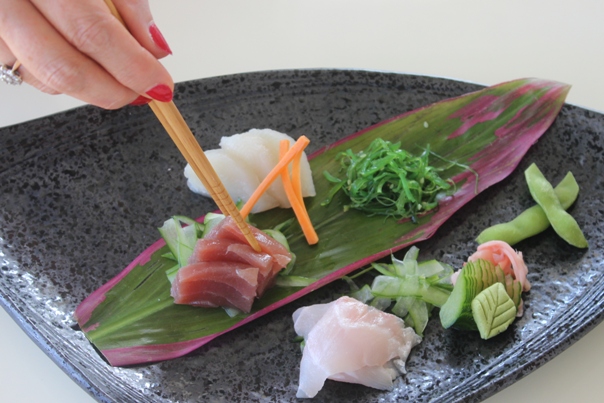 Often dubbed "The Rock of Polynesia" Niue is essentially a volcano that rises 70 metres out from the ocean, it is 269 sq km in size and has a local population of somewhere round 1600.  You don't come to Niue for expansive white sand beaches but you do come with a sense of adventure to explore the rugged coastline and an opportunity to experience things that you possibly won't find anywhere else.
Swimming with sea snakes (well there were two which makes it plural) was a highlight for me. I had heard that they are curious and often come up to your mask to say hello, thankfully my two "friends"  stay a comfortable distance away but still close enough for me to observe their graceful dance as they surface for gulps of air and then retreat to the bottom again.  There are few snorkels in sight as I potter in the almost bath temperature water at Avatele beach, watching fish of many shapes and colours and feeling completely at peace.
If you happen to be at Avatele  on a Sunday you can visit the popular Washaway Cafe, enjoying food and drinks while looking out over the bay.  Here, honest food is cooked and your honesty is relied upon as the bar is self service, write down what you drink and pay at the end!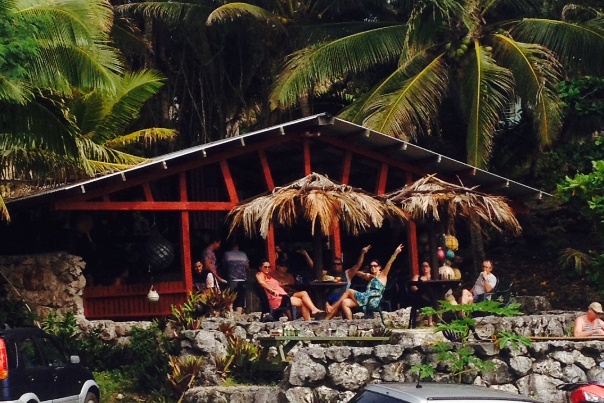 Avatele is within an easy walk from Matavai, the island's resort (there are also motels available).  Perfect for those who want a base to drink, eat and sleep and also for those who are happiest relaxing beside the pool with a book. The ocean views from Matavai are magnificent and the rooms modern and immaculately clean.  There is a good chance of spotting the small local spinner dolphins from the extensive cliff face deck, these dolphins can appear in numbers that are pretty much impossible to count and frolic in the water for hours at a time.  Humpback whales are regular visitors over the winter months but these must be viewed as a bonus as of course they don't stay in one bay for long.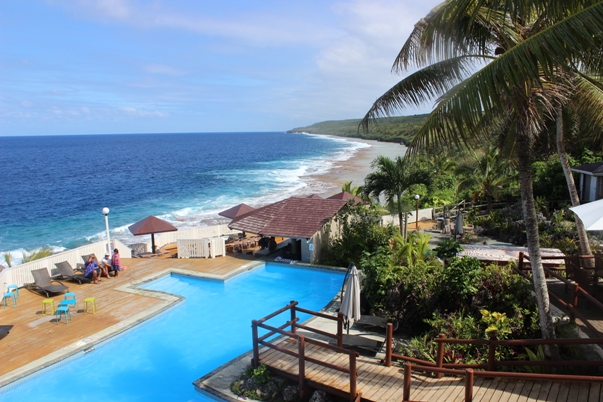 Dive boats offer both snorkelling and scuba diving opportunities where dolphin and whale interaction are sometimes possible.
As I am not the sea faring type I am happy exploring the many caves, chasms and a few of the hundreds of sea tracks that lead to the shore from the road.  Most of the approachable coastline is on the west of the island, this is where Alofi township is and also the popular spots of interest.
A car, motor bike or cycle (for the fit) are you best way to see the sites of Niue at your leisure and get a sense for this relaxed pace of life where time isn't measured.
Matapa chasm is one of the amazing places to swim or snorkel but be prepared for a refreshing swim as the cold fresh water meets the sea water lowering the temperature somewhat.  The visibility is gin clear although the merging of the waters can give the illusion of looking through an ice cube. The water is possibly too cold for many of the smaller tropical fish but there are still plenty to see.
Along from Matapa are the Talava Arches, a place not to be missed.  Although it is a bit of a walk to get to them, the caves and majestic stalactites and stalagmites are almost prehistoric in their grandeur.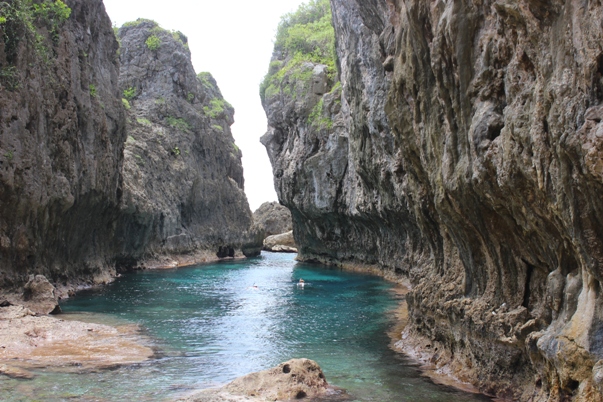 Limu pools are one of the most popular snorkelling spots in Niue and it is easy to see why.  The clear blue water is reasonably shallow and home to an array of coloured tropical fish.  The walk from the car park  is short but perhaps a little steep in parts making trainers a sensible footwear option.
Most of Niue's walks require something sturdier than jandals due to the sharp volcanic rock and coral landscape that has very little soil covering it.
With all this exercise, of course there is a need to refuel and Alofi is generally where this happens.  While you won't find bars, nightclubs or restaurants with glittering lights, you will find the freshest of fish, salads put together with produce from the local hydroponic farm and drinks at competitive prices.
Aside from our sashimi and sushi at Kaiiki we had fabulous fish at both Falala Fa and The Crazy Uga.
The latter named after the famous Uga (coconut crab), a staple feature of island food.  These land loving crabs can grow to a massive size and if you don't spot one out on your adventures there is sure to be a local who will point one out.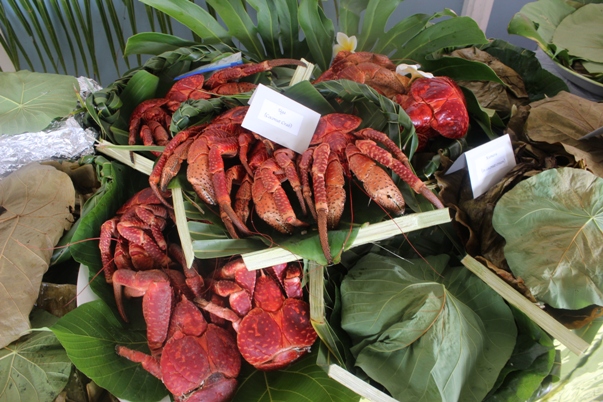 Another local food feature is the Luku (fern) that is stir fried or cooked in coconut cream and is incredibly delicious.  A taste that is somewhere between fresh green peas and asparagus it is apparently the same fern that many NZ households had as pot plants in the 70s….
Shopping in Niue is pretty much local handcrafts or souvenir tee shirts and a supermarket that stocks essentials.  For those who love cooking, some fresh local vanilla pods or extract are a great purchase and make a lovely gift to take home.
Our departure day is one that is typical of relaxed Niue style, check in bags to the airport and then off to the Crazy Uga for fresh battered Mahi Mahi, salad, chips and a glass of chilled wine before an easy trip home to NZ.
Air New Zealand flies Auckland to Niue, flight days vary by month so check availability.
Take: reef shoes, snorkel gear and a smile!