Roast Game Birds with Rosehip and Apple Jelly – Alison McKee
Between the 13th century and the French Revolution thousands of colombiers or pigeonniers were built in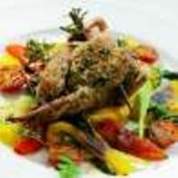 France. The right to own pigeons was a great sign of status and authority granted only to landowners as pigeon was considered one of the most delectable meats. The number of pigeons allowed was directly related to the number of hectares owned which determined the size of the pigeonniers. Pigeons and Quail are readily available at specialist stores and butchers. Both can be slightly dry when cooked so the addition of fats and juices is essential. Vine Roasted Quail with Barley Stuffing
Ensure the birds are thawed completely before cooking. Wash them inside and out and then dry with kitchen paper. The birds should be at room temperature before cooking.
Roast Pigeon
One Pigeon per serving
A knob of butter
1-2 Rashers of Streaky Bacon to cover
Preheat the oven to 190º C
Place the knob of butter inside the pigeon. Cover the pigeon breast with the bacon rashers. Season. Place on a rack in a roasting tin and roast for 15 minutes.
Remove from the oven, take the bacon rashers off and return the bird to the oven. Roast for a further 10-20 minutes. According to Mrs Beeton pigeon should be served with Bread Sauce
Roast Quail
2 quail per serving
Melted butter
2 Slices of Pancetta
Preheat the oven to 190º C
Wrap the quail in pancetta and baste with the melted butter. Season and place in a shallow roasting dish. Roast for 15-20 minutes, basting frequently.
For additional flavour fill the cavity of the quail with 'woody' herbs such as rosemary or thyme.
Who can forget in Like Water for Chocolate, Tita's Quail in rose petal sauce that caused everyone to become suffused with passion? For centuries, roses have been used as an integral ingredient in creating the finest culinary dishes. In medieval times roses were used extensively in fish dishes and game sauces as well as sweet dishes. If you haven't yet pruned your roses now is the perfect time to make Rose Hip Jelly. The best roses to use are Rugosas despite them having fierce prickles they produce wonderful edible hips.
Rose Hip and Apple Jelly
8-10 Granny Smith Apples
8 cups rose hips cut in half
Coarsely cut the apples, including the core and seeds and place in a saucepan with the rose hips. Cover with water. Bring to the boil and simmer approximately 20 minutes until the apples are soft and pulpy. Place the pulp in a sieve and mash until only the skins and seeds remain. Strain through a jelly bag. Do Not Squeeze or the jelly will not be clear. Allow 1 cup of sugar to each cup of juice. Place the juice in a nonreactive saucepan and bring to the boil. Add the sugar and boil quickly about 20 minutes. To test: place a small amount of jelly on a cold plate to cool – if it jellies it is ready. Skim off any foam and ladle carefully into hot sterilised jars.
Roasted Little Birds With Walnut And Almond Pesto
Roast Pheasant With Quince Paste
Duck Breast With Sautéed Red Cabbage, Walnuts And Kumara