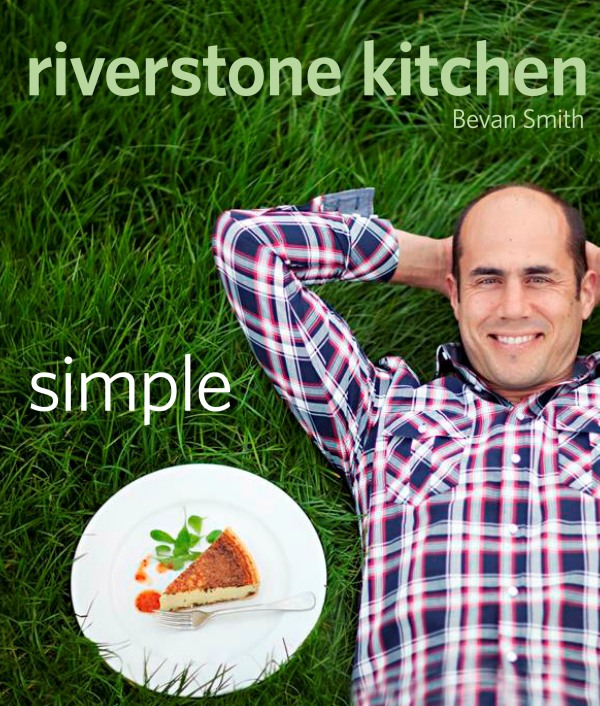 In 2006 chef Bevan Smith and his wife, Monique, brought their dreams to life by opening
Riverstone Kitchen on the outskirts of Oamaru. Since then the restaurant has gone from strength to strength, culminating with the restaurant being named Supreme Winner in the Cuisine New Zealand Restaurant of the Year Awards in 2010.
While lots of people open restaurants and a handful do it well, the thing that I think gives Bevan Smith the edge is that he is genuinely seems to be a really nice down to earth honest person who has a huge passion and dedication for quality seasonal ingredients..  A complete purist in terms of seasonality, he doesn't even bottle loads of summer fruit to get him through the winter, Smith works with what is in season at that time and his menus are planned accordingly. Having interviewed him on Radio Live several times I finish each chat wishing there was more time to sit and discuss the merits of rocket flowers in salads, making the best donuts, the popularity of cavalo nero and kale and why salted caramel tastes so good. I am of course a huge Bevan Smith fan with the only complaint being that Riverstone Kitchen is a long way from where I live.
Happily though we can peruse and use his recipes from his collection of books with Simple being the latest release.  Loosely divided into chapter groups covering the 3 meals of the day plus platters, sides and sweets, the book is packed full of recipes with loads of flavour that also look great on the plate. Basics such as pastries, gnocchi, pasta and sauces are also covered and there is a recommended brand of ingredients list that will certainly assist with shopping choices.
If you are choosing just one new cookbook this summer then Simple would be my pick!
shaved cabbage salad with roast hazelnuts, Parmesan and balsamic
Everyone's favourite in the restaurant, this dish has changed the way we think about cabbage.
3 cups very finely sliced drumhead cabbage
¼ small red onion, finely sliced
2 spring onions, finely chopped
½ tsp wholegrain mustard
juice of ¼ lemon
30 ml olive oil
2 tbsp aged balsamic vinegar
¼ cup whole hazelnuts, roasted and skins removed
2 tbsp ground Parmesan
extra virgin olive oil, to finish
Place cabbage, red onion, spring onion, mustard and lemon juice in a large bowl. Drizzle with olive oil and lightly toss together. Place in a serving bowl before drizzling with balsamic vinegar. Top with hazelnuts and finish with Parmesan and a little extra virgin olive oil, if desired. Serve immediately.
serves 2 as a side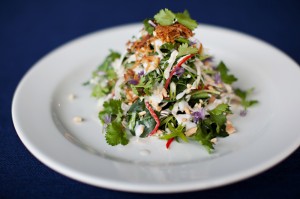 Thai chicken salad with coconut,
chilli and roasted peanuts
1 x 400 ml can good-quality coconut cream
2 free-range skinless chicken breasts
1 tsp sea salt
2 pinches dried chilli flakes
3 cloves garlic, peeled
50 g palm sugar, crushed with a mortar and pestle
juice of 4 limes (or juice of 1½ lemons)
3 tsp fish sauce
2 cups baby spinach leaves
1 fresh red chilli, seeds removed and finely sliced
½ cup mint leaves, washed and roughly torn
¼ cup Vietnamese mint leaves (optional)
1 cup coriander leaves, washed
½ cup basil leaves, roughly torn
¼ red onion, finely sliced
1 cup finely sliced (Asian-style) spring onions
3 tbsp deep-fried shallots (available from Asian supermarkets)
¼ cup blanched peanuts, roasted and roughly chopped
1 tbsp chive flowers (optional)
serves 4
Recipes printed by permission.
Simple Bevan Smith RRP $44.99
HarperCollins Publisher
We have 2 copies of Simple to give away this month.