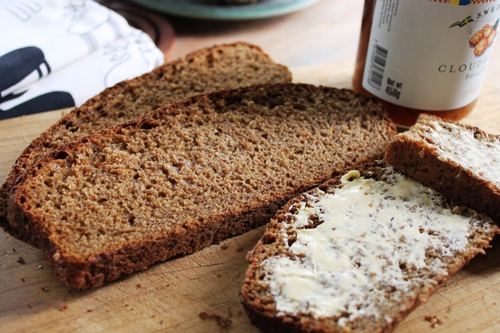 Virgil Evetts
I used to view rye breads with deep suspicion. They belonged, I thought, to that smug family of foods designed to bring good health through bowel scouring and doer dullness. Well, I hadn't reckoned on the baking skills of those plucky Swedes, had I?
A trip to Sweden a few years back was full of many game-changing culinary revelations, but none more so than my discovery of authentic Swedish rye breads.  Here, the hard and hardy grain has been cultivated for thousands of years, on account of its rugged disposition and ability to weather the extremes of the local climate. And, by necessity I guess, the bakers of the north countries have learned a thing or two about getting the best out of rye, a far from sexy starch if truth be known.  Instead of the penitentially sullen ballast favoured by local nutrition hobbyists, the Swedes turn out richly flavoured, moist and fragrant savoury confections.  That these breads are, by virtue of their key component, healthy and nutritious, is nowt but a happy coincidence. Rye breads are deeply entrenched in the Swedish culinary psyche too, with all ages indulging in them enthusiastically on an almost daily basis. They are as likely to turn up in school lunch boxes as on the tables of high-end restaurants.
Ever since my all-too-brief stay in that lovely, far off land, I've been attempting to recreate a rye bread in the Swedish style, but manageable in a reasonable time frame (Swedish recipes are often days in the making), and achievable with locally available ingredients. My initial leaden failures left me rather crestfallen, and I moved on to other kitchen projects. But then a recent smoked salmon windfall got me mulling once again. Rye bread, you see, is just about the finest vehicle for that most richly silken of fish. So I harrumphed a little more, struggled through some literal translations of Swedish websites ("slaps they wet-dough with those finger…"etc, etc), and went ingredients shopping.
Rye flour is not as easily available as one might expect. My large and well-stocked local supermarket carries only one brand, which is sold in small and rather pricey portions (it's stone-ground and organic, don't you know?). But fortunately, a little bit of rye goes a long way.
Although there are plenty of examples of pure rye breads (most famously pumpernickel), these are truly something of an acquired taste, and are not representative of the Swedish breads of my mind's rather greedy little eye.  A blend of plain wheat and rye flours produces lighter bread with a good bite, and plenty of that warm-toffee rye flavour. One of the problems I found using unadulterated rye flour in earlier experiments was that yeast can barely bring itself to feed on the stuff, so the dough rises very, very slowly. Also, lacking anything like the gluten levels of wheat flour, pure rye dough will not develop bready elasticity no matter how hard and long one works at it, resulting in heavy cake-like loaves.
To counter recalcitrant yeasts, Swedish rye breads (both pure and blended flour versions) are usually fortified with brown sugar or honey, and finished with a gloopy flourish of molasses, which imparts that idiosyncratic liquoricey tang . Many Scandinavian ryes are further flavoured with a heavy handed dose of deliciously pungent and shatteringly crisp caraway seeds. Totally up my alley.  Digression, upon digression – my apologies
After much toil in the kitchen I feel enough confidence in the reliability and out-right deliciousness of my 'Swedesque' rye bread recipe to set it loose upon the world, or at least the few inhabitants of said planet who actually indulge my weekly conceits.
'Swedesque' Rye Bread
Ingredients:
1 ½ cups Rye flour
1 ½ cups high grade flour (wheat)
1 ½ T butter
2 T honey
2 T black strap molasses
1 t salt
1 T dried yeast
¾ cup warm water
½ cup milk
2 T caraway seeds (optional)
Method:
Before you proceed: This dough is sticky and requires at least 10-15 minutes of continuous kneading by hand – much easier in an electric mixer!
In a small bowl, combine the honey, warm water and yeast. Set aside for 10 minutes.
Sprinkle the flours and salt into a mixing bowl and rub in the butter. Mix in the yeast/honey/ water solution, the milk and molasses. Work into a dough that sticks to the bowl slightly, but can still be kneaded. Use your best judgement to add or subtract wet and dry ingredients until the dough looks and feels right. This dough is naturally sticky and requires at least 10-15 minutes of continuous kneading – much easier in an electric mixer!
Keep kneading until the dough becomes elastic and begins to stretch and slap, rather than just squish and squelch. Cover with a damp tea towel and leave to double in size- around 3 to 4 hours, humidity and temperature depending .
Punch down and press in a greased loaf tin. Sprinkle with caraway seeds if using. Cover again with a damp cloth and leave to rise until well risen again.
Pre-heat oven to 190° Celsius. (Yes this is correct. Rye breads are usually baked at low temps)
Bake for around 25 minutes or until a skewer comes away clean when pressed into the centre of the loaf.
Spread thickly with butter and sprinkle with a few salt flakes, or serve plain with cold smoked salmon a lemon wedge.  Outstanding toasted too.  This loaf remains fresh for several days when wrapped in a tea towel in an air-tight container.