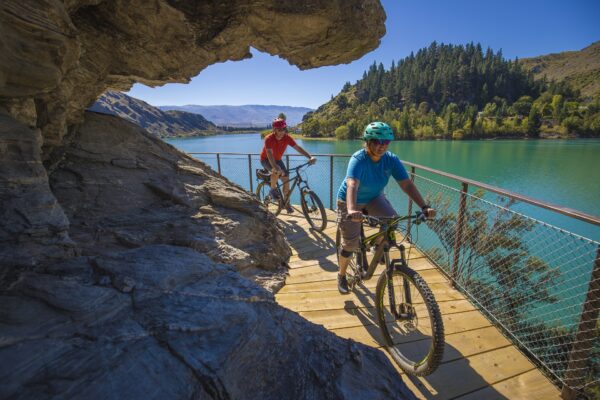 Has anyone else been meaning to get to Lake Dunstan and cycle the relatively new cycle way?  How about coming along with us and cycling all three of the main trails, Roxburgh, Dunstan and Clyde.
Trip starts with a pick up fro Queenstown airport on Thursday 4th May and concludes with a return to Queenstown on Sunday 7th May.
Our accommodation each night is at Dunstan House in Clyde.
E-bikes are all of a well maintained standard and are supplied by Shebikeshebikes.
Price:
Twin Share –  $2300
Single – $2595
Includes:
*3 breakfasts
*4 lunches
*3 dinners
*3 nights accomodation at Dunstan House
*bike hire 
*transfers
*boat trip
*wine tasting 
Thursday 4th May

Gibbston Valley – 8.7km
Pick up from Queenstown airport at 9.30am and delivered to the start of the Gibbston Valley cycle.  Bungy jump anyone?
Today is a very easy and gentle 8.7 km cycle.  We can provide e-bikes for those that want them but it isn't difficult cycling and we are having lots of stops for wineries and food along the way so you may be just as happy on a regular bike.  We will make our way past Gibbston Valley Winery & Cheese Shop, to Peregrine and many more.  Our cycle destination is Gibbston Back Road where we will be reunited with our bags, leave our bikes and head off by a different van to Clyde.
Lunch, Dinner, Wine tasting
Accommodation Dunstan House
Friday 5th May
Lake Dunstan Trail 42km
Lake Dunstan trail is set to become an iconic NZ day cycle. It has outstanding scenery and a variety of technical grades from easy to intermediate. Remember we are not on thee Tour de France and as long as you are reasonably bike competent then we will be fine.
We will start our cycle at The Cromwell Heritage Precint and make our way on to Carrick Winery for a mid morning wine tasting.
From here we head on another 12km or so to Coffee & Burger Aflloat where we hope to have coffee and lunch. Plan B is a picnic lunch.
From here on it is another 20 km or so on to Clyde.
Breakfast, Lunch, Dinner
Dinner tonight is at The Post Office in Clyde.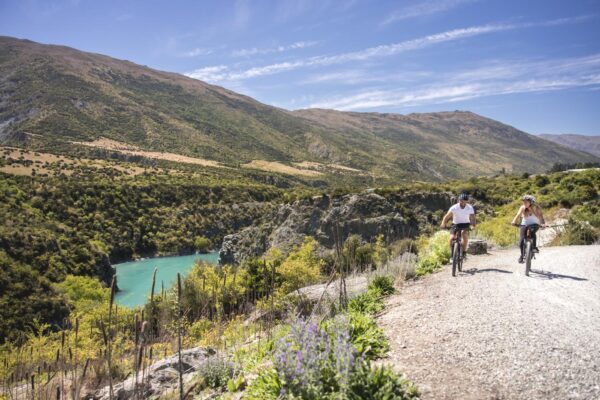 Saturday 6th May
Roxburgh Gorge 33km approx
Discover another world cycling on the remote and stunning Roxburgh Gorge Trail. With 21km of cycling and a 13km boat ride in the centre to join up the two sections, this trail is all about the experience. The boat ride is on the Clutha River Cruise – Doctors Point to Shingle Creek boat jetty (approx 30 minutes), and includes a historical commentary while viewing the Doctors Point Gold mine, Herons Cottage and the various miners huts along the way.
We start our cycling from Clyde, the journey stretches out to approximately 33 km finishing at the Lake Roxburgh Lodge in time for a cuppa before our 3.30pm pick up and transported back to Clyde.
Breakfast, Winetasting, Lunch, Dinner
Accomodation – Dunstan House
Dinner – Olivers Restaurant
Sunday 7th May
Alex/Clyde Loop Ride 22km
This easy cycle heads along part of the rail trail loop to Alexandra for morning coffee and then we head back around the Clutha river to Clyde.
Lunch in Clyde and then head back to Queenstown airport to arrive late afternoon.
Breakfast, Lunch