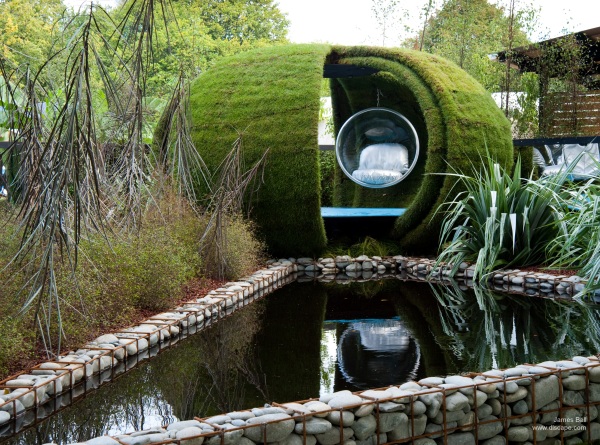 Four past gold medal winners at the Ellerslie International Flower Show return to this year's show to create an inner city courtyard or rooftop garden for Christchurch of the future.
Aucklanders Xanthe White and Tim Feather, Wellington's Ben Hoyle and the Canterbury Horticultural Society will each design a City in a Garden, a new look for the city as it rebuilds following the devastating earthquakes.
Xanthe, who has won two sliver gilt awards at the world's prestigious Chelsea Flower Show and several medals at Ellerslie, says her 2012 garden has two sides.  "The garden has duality, embracing Christchurch's heritage through stone work and classicism, while looking to the future with a contemporary courtyard where diversity in planting gives the garden complexity."
She says the garden retains the most beautiful aspects of the city's heritage in a lush planted green garden, complete with water feature, transitioning into a dry, arid garden featuring a marble Tim Royall sculpture.
Xanthe's garden, sponsored by Daltons, will also aim for sustainability through its design, bringing heating and cooling elements into the garden, the plant material being a mix of native plants and flowers.
"The garden will be about aspiration with a balance of architecture and the magic of plants. It will be beautiful with a fresh city edge for the future."
Ben Hoyle's She Loves Me, She Loves Me Not garden is "a little bit out there" and captures Cantabrians love/hate relationship with their ever changing environment as a result of what has happened in the city.
In essence, his courtyard will be a giant water lily, about seven meters wide and two metres tall, floating in the middle of a still pond. Giant petals will spread out across the water, with two or three broken and floating in the pond.
Ben says the water lily petals will form hammock style seating and fan around a communal area set with a central fire pit.
"What I am creating is a garden in the water. Normally, it is the other way round – you punctuate a landscape with a water element. This provides an opportunity to mentally and physically float away from the ground as the garden is insulated by water which acts as something of a shock absorber. Demolition material such as bricks and broken concrete from the city will be used to form gabion walls around the garden in a symbolic process of the historic past providing the core of a solid foundation for the future.
Ben was only 21 when he took part in his first Ellerslie Show – that was in 1998 when he won silver. Fourteen years on, he has now competed at eight Ellerslie shows and has a fistful of gold medals to his credit, including more recently taking out Gold and the Supreme Peace Award in 2010 while representing New Zealand at the Gardening World Cup in Japan.
Christchurch's Tony Milne is designing the garden on behalf of the Canterbury Horticultural Garden, which won gold at the 2009 Show with its A Taste of Tomorrow garden designed by Rob Watson.
Tony says Love (in) Your Garden is a play on the Society's new slogan designed to inspire a new generation of gardeners.
His garden is a sculptural rooftop garden that tells a love story combining aspects of romance, fertility and resilience. The story is told through a sculptural display of abstracted flower anatomy, drawing inspiration from the older love gods.
"A grove of 12 stamens dance around the pistil in a display of affection that will ultimately regenerate new life, reminding us of the resilience of the flowering plant life cycle to survive even in the most damaged environment."
Tony says the top of the stamens, the anther will be filled with a number of items that we need to survive in the event of a disaster, symbolic of the sustenance required to be self-sustaining and resilient.
The garden will also allude to alternative energy sources, feature drifts of wildflowers blooming among crushed rubble and the garden walls will feature William Morris prints, peppered with an abstraction of words from Shakespeare and love stories.
Tim Feather's A Moveable Feast garden is a selection of four whimsical pop-up and portable courtyard gardens inspired by the recent earthquakes in Christchurch, creating to help meet the challenges the city faces in designing the gardens of the future.
He says the garden, sponsored by Bay Audiology, allows the homeowner to select a courtyard that reflects their mood and to change or reconfigure elements to enhance their enjoyment. "There is a lot of humour is the garden which I think visitors to the Show will enjoy; everyone should have a bit of a chuckle."
Frayed nerves can be soothed in the Easy Listening Courtyard where you sit on cube seats around a water feature listening to background sounds and enjoy the visual feast of a pop-up planter. The Disco Courtyard turns the back lawn into disco heaven where the homeowner can boogie on down; while in the Seismic Shuffle Courtyard you are able to rearrange the decking segments to create a different look every day. The Liquefaction Blues Courtyard is a place to sit, relax and kick sand in the face of life. It has a pool, deck chairs and beach balls leading through to an overgrown garden with vegetables and fruit trees.
Tim is no stranger to Ellerslie, saying he was a serial Ellerslie exhibitor when the Show was in Auckland, having won gold, silver and bronze medals.
Caption: Ben Hoyle's gold award-winning garden at the 2009 Ellerslie International Flower Show, On the Dark Side of the Moon.
Ellerslie International Flower Show, North Hagley Park, 7 to 11 March 2012. Early Bird tickets are available for $29 at www.ellerslieflowershow.co.nz until February 13.