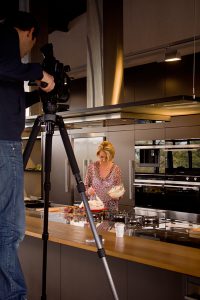 Over the last month I had the opportunity to cook (in front of a camera) in the most fabulous kitchen that has now left me with serious kitchen envy.  We were shooting some new videos for foodlovers tv – watch this space, they will be popping up over the next few months with the first one being this standing rib roast of beef.
The kitchen has enough bench space to host a party and the appliances are all the latest releases from the F&P stable.
The double door French style fridge that makes, water, ice, instantly chills wine etc… has been on my wish list for some years but now the New Generation 2 oven has joined it.  Cooking functions include removing steam from the oven (great for pavs and meringues) and also a roast function, where steam is added, ensuring beautiful moist meat.
There are many more functions of course such as self clean and the fact that they are black sleek glass that aesthetically blends in with the rest of the F&P family.
Onto cooking, spring is here and it is so exciting to see asparagus appearing in stores and my broad beans going from strength to strength in the garden.
My strawberries are all in fruit (despite the fact that I broke the rules and didn't pull them up at the end of last season).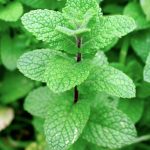 The mint that takes over in summer and disappears in winter is adding a lovely burst of freshness to many dishes and gradually the rest of the herb garden is waking up.
This spring my recipes are using a lot more mint, it is one of those herbs that is easy to look over yet it is indispensible in raw energy salad, courgete fritters,
The whitebait season has opened and I look forward to fat puffy patties sandwiched in Artisan white bread with a spread of good butter and a squeeze of lemon.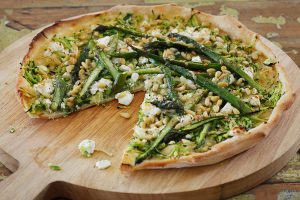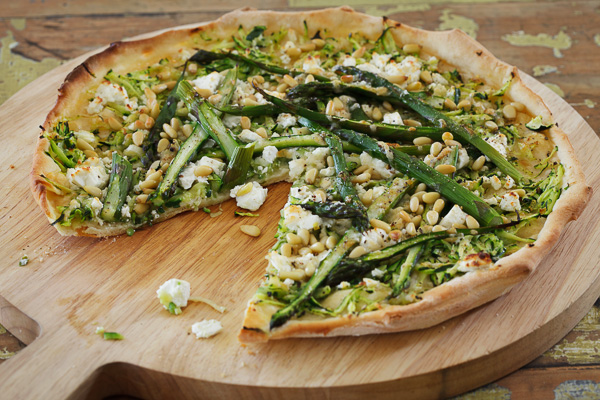 The highlight though of spring must belong to asparagus, I am sure I am not alone in my pacing of the greengrocer store, waiting for the price to become realistic so we can start throwing asparagus into just about everything.  This pizza of asparagus, lemon, courgette and goats' cheese is probably a month away from being the right price but I made it anyway – in the name of photography and recipe testing!
Another new favourite for this spring is asparagus, broad bean and farro risotto.  Farro is such an interesting grain that gives great texture and flavour to risottos, salads and soups.  The broad beans are not quite out of my garden yet but in a month or so I will be feeling very virtuous with lovely pods of spray free fresh beans,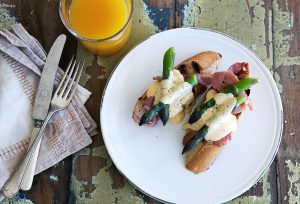 And for something a little more decadent then asparagus with bacon and hollandaise sauce is a delicious brunch treat.
Of course it is not all just about vegetables and this spring for me is going to be more fabulously well slow roasted legs of lamb and of the standing rib roast of beef.  Arm yourself with meat thermometer for the beef, follow our video instructions and make sure your cook your lamb long and slow. It always surprises me how complicated some people can try and make a roasted leg of lamb,  I don't brown or do anything special yet it comes out perfect time after time.
While the strawberries are not yet in huge supply, lemons are everywhere, so for now my dessert pick is an elegant slice of lemon tart.
I leave you now to go and measure up my kitchen to check the possibility of housing a F&P refrigerator drawer that has settings for everything.  It can chill enough to keep frozen solid, look after meat or be mild enough to keep those summer strawberries looking perfect – love it!
See our exciting new prize on offer from F&P here – anyone need a new fridge?