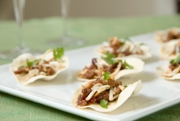 Winter Canapés
By Michal Haines
Winter entertaining can be a drag. The colder weather seems to makes everyone ravenous. It can be hard to concentrate on your cooking when your guests turn up at your door looking like they may eat you if you don't hurry up and give them something straight away. The ideal dishes to serve are slow cooked creations that will feed plenty but they do, as their names suggest, take a little longer to get to the table. Everyone is cold and if you live in a house like mine, not all of you can huddle about the heater at once. So how do you make winter a time of entertaining?
One of the most common questions I get asked is what can I serve people for canapés in winter?
Summer is so easy with its flashy fruit and warm weather. You feel it is easier and totally acceptable to pop out a wonderful platter of cold meats and spreads in the antipasti styling followed by some well barbecued meat. Winter seems to demand more from you as an entertainer and without all the taste sensations of summer fruit made into fresh cocktails to help out, you do have to think a little harder.
Canapés to most seem to be open a packet of chips and tear the lid off some dip but in my world, canapés mean the actual art of creating small eats. Small eats don't have to be time consuming and fiddly but they do demand a high level of taste to have maximum impact and to get those stomach juices going in time for the main event.
They need to be large enough that any male doesn't feel like a giant when picking them up and yet small enough that they go in into your mouth easily. There is nothing worse than a canapé that immediately crumbles into one a thousand pieces as soon as you have bitten into it making you immediately try to rescue it from your front with your hand that is already holding a wine glass. Napkins are a must but better still make it easy to eat.
The Spanish have it down with tapas. The idea of wee plates of delicious, unfussy nibbles is exactly what you are looking for. The Basque call them pintxos and have an array of taste sensations within the collection. Small sandwiches (bocadillos), fried seafood treats (fritos), small mini braises (estofados), skeweres (pintxos) and topped slices of bread (montaditos). All of them are the careful matching of tastes with textures but most a relatively simple. Well seasoned squid, deep fried and served with a lemon aioli, a prawn fritter, a good quality chorizo served sliced.
Flavour is all important here so you can get away with big bold flavours as it is a precursor to what is to come. Naturally it is good to work with a theme. If you are serving a rather classic French cassoulet as a main or an Indian array of dishes (even Indian inspired) it is best you stick with that. No fusion confusion.
If you are serving meat for a main best not see it first as an entrée or canapé. The only time I may make an exception for this is with Asian as all meat, all the time is the motto that works for them. I am happy to have pork five different ways in one meal!
The other vital one is not to over do it. Your main is the star so you don't won't to put all your time and effort into canapés. Look at 3 to 4 items per person as anything else would just be greedy. Make sure you are on time. If your guests are waiting for and hour or more for dinner then they may well need more than three items each, especially if they are drinking.
A few ideas may help to get you thinking differently about how winter canapés.
Seasonal produce as always is the best place to start. Look to see what you like and think about how you may be able to use it. Pumpkins and squash are abundant so think polenta cakes made with pumpkin and plenty of parmesan, think pumpkin risotto balls, think pumpkin slivers roasted and served on bruschetta with crispy bacon or pancetta.
Pears work well with lamb and venison and are cheap right now. Roasted and served thinly sliced with a wee piece of rare venison or lamb backstrap on top wont break the budget and will look amazing. Drizzle over some reduced balsamic or balsamic glaze and you have a great, robust and very man friendly treat.
Citrus can be found in many a back yard and can be utilised to match with meat and poultry for a bright and zesty winter treat. Marinate chicken nibbles in fresh orange juice and zest with a little honey, whole grain mustard and sherry vinegar for a few hours. Simply roast in the oven for 30 minutes and serve with a napkin.
Make a citrus salsa with lemons, orange and grapefruit. Add freshly chopped coriander, a little touch of chilli or red capsicum finely diced for colour and mix well with salt, pepper and a little olive oil. Top pieces of hot smoked salmon on toasted pieces of bread with the citrus and serve. A little messier but worth it.
Don't discount precooked items also as ways that you can save time and work your magic. A roasted duck from an Asian food-store can be shredded and rolled into rice paper or little pancakes with spring onions. Rhubarb works very well with duck as the more acidic and sweet taste helps cut the greasiness of the meat .
I chop –
200g of rhubarb up roughly and place it in a saucepan with
¼ cup of sugar and
1 whole star anise and
enough water to stop it sticking (1/4 cup).
Set it to cook on a medium heat and allow it to cook till it is very jammy and all the water has reduced away. Taste to see if it needs a little more sugar and remove the star anise.
Serve in Chinese spoons with shredded duck meat on top and a garnish of very finely chopped spring onion.
Little pastry cases are ideal for mixing big intense flavours together. Think chorizo sausage and a little beaten egg. Fill the case and bake till golden brown. Top with a tiny bit of onion jam and a left of garnish and they will look a million dollars. There are good number of pre made pastry cases available at supermarkets now and while they can be a little dull on flavour, they are a perfect vehicle for enhancement. Things like tinned salmon or tuna can be turned into a real treat with the addition of fresh herbs and a little ricotta mixed through it as well as some key textural ingredients such as artichokes or capers.
Toasted bread is a fine vehicle for messier toppings and is an economical way of creating a winter canapé. Toast rounds of French bread ahead of time and then use a good store bought hummus to top each round. Top the hummus with roasted pumpkin seeds or slivers of roasted carrot.
Thick slices of potatoes can be roasted ahead of time. Lay them out on a baking tray and top with a little slice of dry mozzarella, sage leaf and a very little piece of proscuitto or streaky bacon and bake for 12 minutes till bubbling. Serve with a toothpick through it for easy eating.The same can be done with kumara and topped with salami that has been fried till crispy.
Remember that oysters are at their best in winter, these can be served chilled or in a delicious hot sauce and once again look great on Asian style china spoons.
Skewers and sticks are easy and can be threaded well ahead of time. A good marinade is all you need to make them delicious. Short cooking time makes them also a good one to have ready to go as people arrive that can be served straight from the oven piping hot. Try simple items such as salmon, baby roasted onions skewered with a good quality tangy sheep's milk cheese or roasted baby beetroot with olives and feta. Taking the time to roast a few little vegetables while you are cooking dinner the night before will make all the difference to your pintxos.
Get thinking about ways that you can make simple ingredients work for you. Be economical too. Often your main has already swallowed up a chunk of your budget so working with a few ingredients and making them sing by matching them well can make all the difference.
What are some of your favourites?