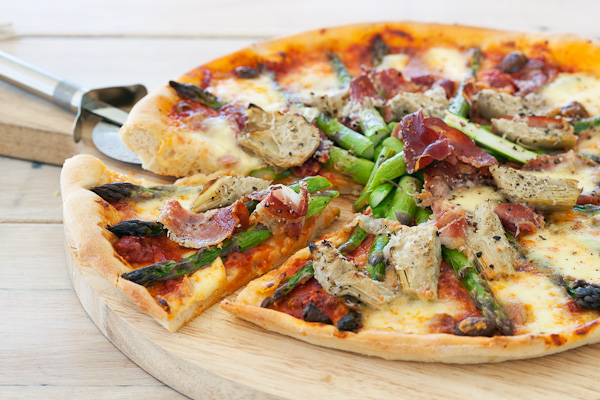 Ingredients
400g highgrade flour

3 teaspoons yeast granules

250ml (1 cup) luke warm water

2 teaspoons sea sallt

3 tablespoons olive oil

1/2 cup tomato pasta sauce

200g marinated char grilled artichoke hearts

1 generous bunch asparagus spears

100g thinly sliced prosciutto

150g mozarella or bocconcini cheese, sliced

1 cup freshly grated parmesan cheese

freshly ground black pepper
Method
Sift the flour into a bowl and make a well in the centre. Dissolve the yeast
in the warm water and pour into the well along with the salt and olive oil.
Mix until the dough comes together and then knead for 7 minutes or so until the dough is smooth and elastic.  Place the dough in a lightly oiled
bowl and cover. Place the bowl in a warm place and leave for 1 1/2 hours
or until dough has doubled in bulk. Alternatively you can make dough in your
breadmaker by using the dough setting.
Divide the dough in half and roll out into 2 discs of approximately 28cm in diameter.
Preheat oven to 220 C.
Place one disc on a pizza stone or oiled pizza tray.  Spread with tomato pasta sauce.
Slice artichoke hearts and scatter over.  Slice asparagus spears in half lengthways (if not too thin) and arrange over the pizza. Slice prosciutto slices in half and place over the pizza before covering with mozzarella and parmesan cheeses.  Sprinkle with a generous grind of black pepper and bake for 12-15 minutes until crust is golden and firm and the cheese bubbling.
Use the remaining pizza base for a garlic pizza bread or as a different flavoured pizza.