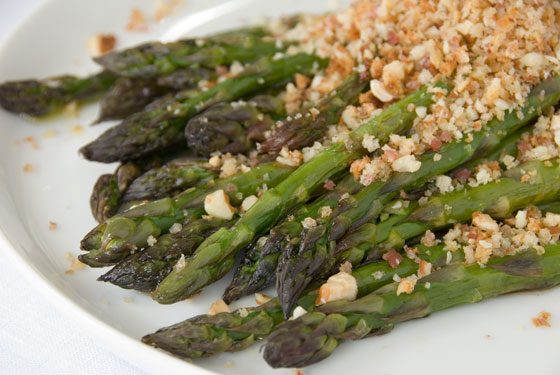 Ingredients
8 thin slices prosciutto, chopped
4 cloves garlic, finely chopped
1/4 cup blanched almonds, finely chopped
1/2 cup fresh breadcrumbs
olive oil
2 bunches asparagus, trimmed if necessary
1 tablespoon sherry vinegar
[homepageimage][/homepageimage]
[smallimage][/smallimage]
Method
Preheat oven to 200 C.
Combine prosciutto, garlic, almonds and breadcrumbs in a bowl, stir in one tablespoon of olive oil. Place on an oven tray and roast until crisp and golden.
Brush asparagus with oil and grill until just tender. Arrange asparagus on a plate and drizzle with sherry vinegar and olive oil. Sprinkle over breadcrumbs and serve.