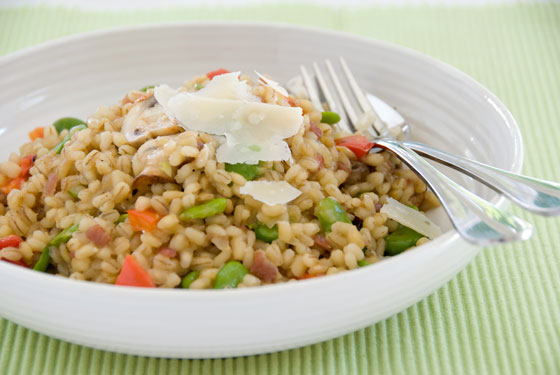 Ingredients
1

litre chicken stock

1

tablespoon butter

1

tablespoon olive oil

1

oinon, finely chopped

1 1/2 cups

pearl barley

4

slices prosciutto or bacon, roughly chopped

200g

button mushrooms, halved if necessary

salt and freshly ground black pepper
Ingredients
1 litre chicken stock

1 tablespoon

butter

1 tablespoon

olive oil

1

onion, finely chopped

1

red capsicum, finely chopped

1 cup

white wine

1 1/2 cups

pearl barley

4

slices prosciutto or bacon, roughly chopped

150g

button mushrooms, halved

1 cup

broad bean, fresh or frozen

salt and freshly ground black pepper
Method
Place the stock in a saucepan and bring to the boil and then immediately reduce to a gently simmer.
Heat the butter and oil in a saucepan and gently cook the onion, capsicum and prosciutto.   Add the pearl barley and stir to coat the grains with the butter and oil.  Increase the heat and pour in the white wine, allowing it to bubble and reduce by half.
Add a ladle of chicken stock and stir until stock is absorbed. Add another ladle and continue to cook in this way until all stock is absorbed and the barley is tender –  approximately 25 minutes.
Meanwhile heat a small pan and cook the mushrooms in a film of oil until tender.
Place broad beans in a bowl and cover with boiling water. Once the water has cooled enough to handle, slip the outer skin off the beans.
Stir the capsicum, mushrooms and broad beans through the risotto along with the parmesan cheese. Season to taste with salt and freshly ground black pepper.