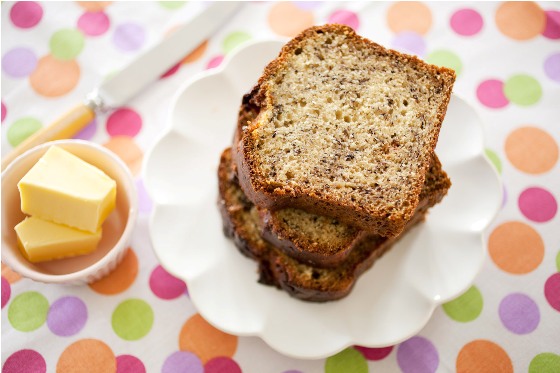 Thanks to the Junior League of Columbus Georgia for allowing us to use this recipe which we have adapted for our use.
Ingredients
1 cup

sugar

1/2 cup

flavourless oil such as rice bran

2

eggs

1 cup

mashed banana

1 1/2 cups

flour

pinch

salt

1 1/2 teaspoons

baking soda

1/2 cup

buttermilk (can use yoghurt)
Method
Preheat oven to 150 C. Beat sugar and oil together.
Add eggs, one at a time, beating well after each.  Then mix in bananas which you have blended or mashed to a fine pulp.
Sift flour and salt and add to mixture alternately with baking soda dissolved in  buttermilk/yoghurt.
Pour into a lined 26cm loaf pan.
Bake for 30 minutes then increase heat to 175 C.
Bake another 35-40 minutes. Insert a skewer into centre to test for doneness.  The skewers should come out clear when the loaf is cooked.