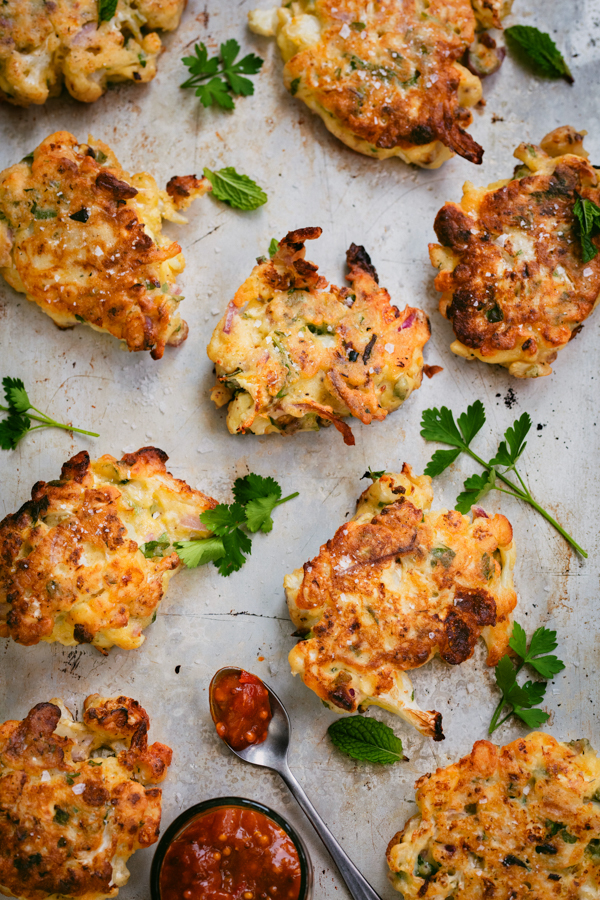 These crisp fritters are so delicious and great for a Middle Eastern style shared table.
Pair them with your favourite chutney or a minted yoghurt dipping sauce.
Yield:
4-6 as a shared plate
Ingredients
1

medium head of cauliflower, divided into small florets

3 tablespoons

olive oil

2

teaspoons sumac

3

eggs

1/2 cup

flour

4

spring onions, trimmed and finely sliced

1

tablespoon chopped mint

2 tablespoons

roughly chopped coriander

200g (7 oz)

feta, crumbled

extra coriander for garnish
Method
Preheat the oven to 200 C (400 F)
Place the cauliflower in a single layer in a large roasting dish.  Drizzle with olive oil and cook for 20 minutes until starting to colour on the edges.
Sprinkle the cooked cauliflower with the sumac,  sea salt and freshly ground black pepper.
Allow to cool until just warm.
Reduce the oven temperature to 180 C (350 F)
Whisk the eggs in a large mixing bowl and combine with the cauliflower, flour, spring onion, mint, coriander and feta.  Mix until just combined.
Heat a good splash of oil in a large frying pan over a medium heat.
Drop large spoonfuls of mixture into the pan and cook for a few minutes until the base is golden and then turning to cook the other side.  Once fritters are golden and crisp then place in a single layer in an oven proof dish and place in the oven while the remainder are cooking and to make sure the fritters are cooked through.
Serve fritters with a spicy chutney and a simple green salad.