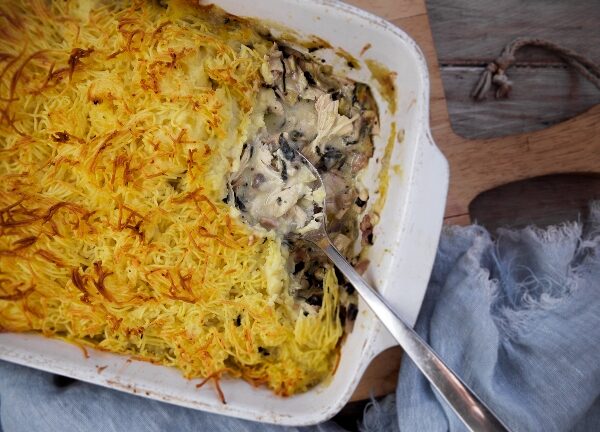 Ingredients
size 16

chicken

parsley, celery, carrot, onion

1 kg

floury potatoes

butter

5 rashers

streaky bacon

1 large

onion, finely chopped

2

cloves garlic, chopped

250g

button mushrooms, chopped

150g

spinach, roughly chopped

2 heaped teaspoons

wholegrain mustard

2 tablespoons

flour

1 1/2 cups

chicken stock (liquid from the cooked chicken)

1/2 cup

cream (or use extra stock instead if you would rather)
Method
Place the chicken in a large saucepan of water with a few sprigs parsley and any vegetable trimmings from celery, onion and carrot. Bring to the boil, cover and simmer for 1 hour until cooked.
Allow the chicken to cool enough to handle and then discard skin and bones and chop the meat into bite sized pieces (strain and reserve cooking liquid).
At the same time cook potatoes in a saucepan of salted water until tender, drain well, add a generous knob of butter and then either mash or pass through a potato ricer (as pictured).
In a large frying pan melt a generous knob of butter and cook the bacon, onion,garlic and mushrooms until onion is tender.
Add the spinach and mustard to the pan and cook over a medium heat until spinach is wilted.  Stir through the flour and cook for a minute or so before adding the chicken stock and cream, heat stirring until the mixture bubbles and thickens.  Add a little more stock if needed to make a saucy consistency.
Taste and season with salt and pepper as needed.
Preheat the oven to 180 C.
Combine the chicken with the vegetable mixture and transfer to a large baking dish approximately 30 x 22cm.
Cover with potato and dot with butter.
Bake for 30 minutes or until potato is golden and the mixture is bubbling.